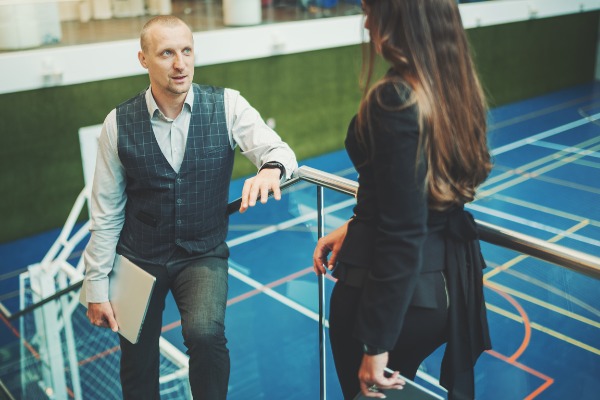 The sports industry is growing at a rapid rate, due to an increased awareness of professional athletes' roles on their teams and broader media coverage of their careers. The University has some useful tools and information that might help students interested in the sports industry.
With its combination of high-technology solutions and specialized personnel, the world of sport management – especially within professional sports – is fast-paced and has plenty of room for expansion over the coming years.
The industry of sports management is becoming increasingly specialized and diverse. Roles range from financial advisors and marketing experts to legal professionals, public relations agents, and professional talent scouts.
Technology in Sports
Technology is helping to make sports management more efficient and cost-effective. Many companies currently provide powerful analytics solutions that can help teams identify potential athletes before they go through the traditional scouting process. Additionally, coaches are using player tracking systems to track their players' performance in real time.
These technological advancements have allowed teams to gain competitive advantages and helped them to make better decisions and negotiate contracts faster than ever before. So if you're looking to learn how to become a sports agent, here's more information.
What Does a Sports Agent do?
A sports agent's job includes many responsibilities; chief among them is serving as a liaison between athletes and organizations. Sports agents typically manage contractual agreements, sponsor partnerships, and marketing contracts on behalf of their clients. A sports agent must possess great negotiation skills, astute business acumen, and an insider's knowledge of their sport's culture.
A sports agent must diligently handle the logistics of career management for athletes to ensure their financial remuneration is maintained at optimal levels throughout their careers. At the same time, a sports agent must position those athletes to accelerate their productivity in the future.
How to Become a Sports Agent
Becoming a sports agent requires an understanding of sports management and business principles. It also requires the willingness to invest time, resources, and money to build up relationships with players and teams – and to assist in a particular athlete's career goals.
Potential sports agents should also obtain an education or background knowledge about sports- related topics such as sports law and negotiation tactics.
Forming relationships with other agents, scouts, coaches, sports agency employees, or sport executives can help make the transition from aspiring sports agent - to a licensed one – smoother. Forming relationships with team owners and teams' business managers – or its marketing manager – is a plus, too.
Obtaining any required licensing is essential for seeking work as a sports agent because it indicates that you understand industry practices and laws. Online job boards often display licensing opportunities in addition to open positions.
After gaining the necessary credentials, sports agents will be able to advise their clients on all aspects of their sporting career including contracts and contract negotiations, sponsorships, and endorsements.
How To Become a Sports Agent: The Necessary Skills
Now that we've covered how to become a sports agent, let's look at the professional skills that sports agents should have in their toolbox. Most of these skills are related to sport management and business management and require a deep understanding (or in-depth knowledge) of sports.
Sports agents must possess excellent communication and negotiation skills along with a good understanding of the industry. The competition within the industry to sign new talent is huge, so a sports agent should have sound knowledge of the rules and regulations that sports organizations are subject to. A sports agent should also have the ability to efficiently manage client relationships within a professional network while often working very long hours.
Contract negotiation is often a major part of a sports agent's job, and agents often take on the role of handling their clients' finances or perhaps may even become their financial advisor. Agents perform other duties and are often called upon to handle contract negotiations and a background check of prospective clients or athletes. They may even assist clients by helping them write a good cover letter.
Finally, they should also look into networking opportunities while cultivating key partnerships. With these essential traits and experience in hand, it is possible for aspiring sports agents to gain valuable industry experience. In short, an agent's job is never dull.
Should Sports Agents Focus on a Particular Sport?
Many sports agents focus on individual sports, sports teams, or sports associations (which are often accompanied by potential sponsors) – in order to gain more knowledge and expertise, making them better equipped to represent the athletes they work with. While some agents may choose to specialize in multiple sports, it is generally better for their clients if they focus on one particular sport.
When deciding which sport to focus on, it is important for aspiring sports agents to consider what types of athletes they want to represent and the type of clients they would like to work with.
Basketball, football, golf, baseball (especially within Major League Baseball), soccer, tennis, hockey (especially within the National Hockey League), and athletics (track and field) are some of the most popular sports. However, any sport is fair game.
Most sports agents specializing in football can potentially work with professional leagues or collegiate teams, depending on their preference. However, it's often prudent for agents to monitor high schools in order to possibly be the first agent to sign a talented individual.
Required Education for Sports Agents and Other Sport Management Fields
Becoming a sports agent usually requires a strong understanding of the industry as well as exemplary communication skills. Generally, a college degree is required to become a sports agent as it helps a student to gain the skills that are necessary in this profession.
While there is no set degree or major to pursue, sports-related studies and marketing may be beneficial and a good place to start would be an undergraduate degree. Following that, many agents go on to earn master's degrees.
It may sound strange, but a sports agent may also decide to attend law school. Having a law degree on a resume may be helpful for better understanding the legal, business, and financial aspects of running a business and professional liability insurance issues as well as helping with the process of contract negotiations. Attending a law school to obtain a law degree is not mandatory to become a sports agent, but in today's dog-eat-dog world, it might help.
Ultimately, students interested in the sports agent field must find ways to build their knowledgebase within the industry and develop useful contacts through internships and job experiences.
Bachelor's Degree in E-Sports
Our University is offers an online bachelor's degree in e-sports. This is a sports management degree program designed for individuals with a passion for video gaming and may want to look into the business and management side of the e-sports industry.
Our bachelor's degree in e-sports includes topic such as e-sports' history, culture, and the various stakeholders involved. The program covers topics such as sponsorships, marketing, event planning, and team management. It also investigates the ethical and legal issues around the e- sports world, including the role of sports lawyers, intellectual property rights, and player contracts.
Earn a Sports Management Bachelor's Degree
The University offers a sports management bachelor's degree program to help prepare graduates interested in sports-related fields.
Our undergraduate program helps students gain associated knowledge and develop the appropriate skill set, including the art of negotiation and laws governing the sports industry.
Furthermore, the undergrad program in sports management provides a diverse list of course offerings and a robust curriculum.
Earn a Sports Management Master's Degree
Our degree in sports management is a comprehensive program that helps to equip students with the knowledge and skills often required of sports industry professionals.
Graduates of this program will acquire the knowledge and skills pertinent to the sports industry: a bachelor's degree in sports, sports management or a related field, plus an understanding of sports operations.
The University provides students with an online college degree combined with sports business core courses, giving them the tools typically necessary for sports-related fields. Additionally, students have access to real-world learning opportunities, including internships and professional fellowships for sports organizations.
Agent Jobs: Careers Typically Related to Sports Management
Sports agents work in many capacities within sport management. They may decide to work for a major agency, a smaller agency or even work on a freelance basis. Here is a list of just a handful of professions that are related to the industry:
Professional team manager
College athletics director
Amateur and professional athlete representative
Sport psychologist
High school athletic director
Fitness instructor or personal trainer
Collegiate coach
Recreational program administrator
Ultimately, attaining a satisfying career as a sports agent is possible when one is equipped with the right attitude and knowledge.
Next Steps
Courses Start Monthly
Next Courses Start Dec 4
Register by Dec 1