Save @ APU
$0
Transfer Credit Evaluation
0 Entrance Exams
No GRE/GMAT Required
About the MS Degree in Sports Management
The sports management master's degree at American Public University advances your knowledge of business administration and leadership as it relates to the sports industry. This master's in sports management is designed to help you cultivate strong business skills for professional, interscholastic, and amateur sports settings.
American Public University's sports management master's program offers topical courses that provide strong business foundations while simultaneously exploring the world of sports. Coursework includes sports law; sports finance; sports marketing, promotion, public relations; and sports event management.
Seasoned sports industry practitioners help advance your knowledge to support individual athletes, teams, or entire athletic programs. This sports management degree provides a robust business framework to help build managerial expertise, problem-solving strategies, analytical abilities, and vital communication skills. Additionally, this degree program helps prepare students to broaden critical thinking within the context of the sports industry.
This sport management program holds specialty accreditation through the Commission on Sport Management Accreditation (COSMA).
What You Will Do
Apply management theory and managerial leadership concepts to contemporary sports industry practices
Analyze and apply relevant business, legal, and ethical issues such as models of ethical analysis, codes of professional ethics, and situational analysis to the sports industry and enterprise
Integrate economic decision making and advanced finance theory and concepts to sports and sports-related enterprises as it relates to sports in contemporary society
Implement concepts and theories of marketing to sports-related enterprises to include internal and external sources of marketing information, marketing theory, industry segmentation, marketing mix, sport sponsorship, licensing, venue and event marketing, and image enhancement
Examine ethical and legal concepts in a sport context relative to governance, gender equity, and managerial leadership and decision making within an athletic department or organization
Degree at a Glance
Accredited

Courses Start Monthly
Online
Accreditation for APU's Sports Management Master's Program
American Public University is part of American Public University System. The sport management degree program at the American Public University System has received specialized accreditation through the Commission on Sport Management Accreditation (COSMA) located in Fort Collins, Colorado, USA. The sport management program in the following degrees is accredited by COSMA:
Master of Science in Sports Management
COSMA is a specialized accrediting body devoted to recognizing outstanding sports management programs. COSMA promotes excellence in sport education, encourages innovation and creativity in teaching and learning, and cultivates ethical practices in sport management. COSMA accreditation is given exclusively to high-quality programs at the baccalaureate, master's, and doctoral levels.
COSMA acts as a third party to review a program's learning outcomes in all relevant topics, including sports administration, sport event management, and sports marketing to ensure those outcomes have been achieved. A student can be confident that a sport management program that has earned COSMA accreditation offers both rigor and quality.
Can This Master's in Sports Management be Earned Online?
This sports management degree can be earned online. American Public University offers high-quality online classes to students around the world. When choosing between traditional face-to-face education delivery versus virtual classes, some graduate students choose an online program for a variety of reasons.
The online classroom includes students from locations near and far. As a learner, this can offer new perspectives of the global sports market during class discussions and pave the way for new peer and professional connections. Students may connect with professionals like athletic directors, owners of fitness centers, or sports marketing managers—each bringing their unique views to the learning process.
Digital learning encourages students to be more proficient with software and applications, especially technology that enables students to work in teams.
While some may find the requirements of sports management degrees, like the University's sport management MS to be challenging, the required self-discipline can help students cultivate greater responsibility.
Caretakers of children or parents often find the flexible schedule of an online program allows an individual to manage their learning and balance other obligations.
Commuting costs and room and board costs typically associated with learning on a physical campus are offset.
Many people feel more focused when they can study from the comfort of home. They don't feel rushed or pressured like they might be in a physical classroom.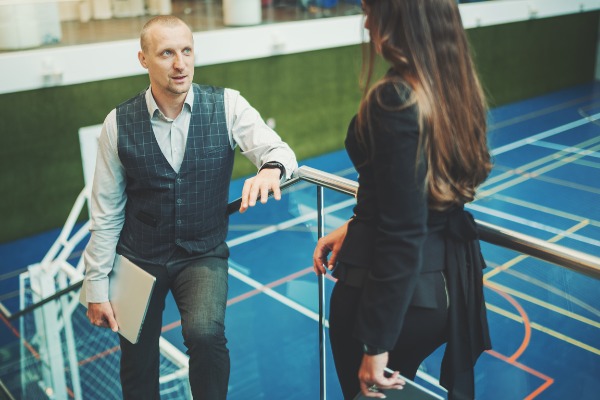 Why Should I Pursue a Master's in Sports Management?
This sports management degree can help enhance the business and financial management acumen often needed for sports leadership responsibilities.
A sports management master's program can appeal to a variety of students, particularly those seeking to integrate an interest in sports with business. Those with backgrounds in roles like athletic director or coaching and those with experience in areas such as recreation management, sports administration, and other related fields may find a master's in sports management takes their knowledge to the next level.
Additionally, traditional business undergrad degrees like finance, marketing, business administration and management, or business communications, may provide a solid foundation applicable to sports management.
Professors with sports industry experience guide your education and you are able to connect with other graduate students with a shared interest in sports management. American Public University's program may be an opportunity to create an expanded professional network of like-minded students and potential future colleagues.
The MS in Sports Management Master's Curriculum Overview
American Public University's sports management master's program consists of core coursework, a final program requirement, as well as concentration coursework. The sports management concentrations are:
Students will be expected to analyze the varying responsibilities of coaching within the sports industry. Coursework covers topics such as coaching leadership, coaching strategy, and coaching theory.
Students analyze the complexities of sports administration in an interscholastic context. This concentration examines leadership, promotion, financial matters, management skills, and human resources. Students with a concentration in Interscholastic Athletic Administration have an opportunity to complete the academic requirements needed to pursue Registered Athletic Administrator (RAA) certification from the National Interscholastic Athletic Administrators Association (NIAAA®). Courses cover topics that include administration of athletics in high school, sport management and leadership, and legal issues in high school athletic administration.
NOTE: Completion of this program does not award any professional certifications, but may be helpful in preparing to seek such certifications.

NIAAA® is a registered trademark of The National Interscholastic Athletic Administrators Association.
This concentration is designed to help develop the skills needed for effective leadership with teams, individuals, and sports organizations. Concentration courses cover topics such as sports entrepreneurship, sport management and leadership, and sport sales and promotion.
To complete your Master of Science in Sports Management, you will choose either the Sports Management Capstone or Sports Practicum and Integration Project. The capstone is a research-based project while the practicum is a hands-on internship in the sports industry.
The Sports Management vs. Sports Administration Master's Degree
This field features many programs with similar names, including sports administration master's and sports management master's. Online and on-campus programs are typically available for these programs.
Programs have evolved over the years from sports administration degree programs to the more common and contemporary sports management degrees.
A master's in athletic administration is another example of a sports management program that might include instruction focusing on interscholastic athletics and athlete development.
Essentially, these programs bear terms often used interchangeably with similar coursework emphasizing management skills as they relate to the sports industry.
A sports administration degree and degree in sports management may have earned specialized accreditation, which should be considered when deciding on any undergraduate or graduate program.
How to Finance Your MS Degree in Sports Management
American Public University is committed to making your degree in sports management as financially achievable as possible. We have financial aid advisors ready to assist you in discussing options to finance your education.
Some types of financial aid opportunities at American Public University include:
Some employers will reimburse your out-of-pocket payments upon course completion and/or proof of tuition payment. Each employee benefit plan is specific to the employer, so check with your human resources department for details regarding tuition assistance and benefits. If you are a member of a professional association, you may have education benefits available through that association as well.
Many private organizations have provided scholarships to our University's students. American Public University does not directly offer merit-based scholarships, but other organizations do such as the Walmart Foundation, Shawnee Tribe, AmeriCorps, and the Coast Guard Foundation, among others. Scholarships are typically considered "gift" funds that do not require repayment.
You may also seek grants or private loans. Please note that most grants do not need to be repaid, but loans do require repayment.
There are a number of veteran benefit options through the GI Bill®, Top-Up, Veteran Readiness and Employment Services Benefits, as well as Survivors and Dependent Benefits. Veterans are also eligible for a University-sponsored Veteran Grant, which results in savings on tuition.
GI Bill® is a registered trademark of the U.S. Department of Veterans Affairs (VA). More information about education benefits offered by VA is available at the official U.S. government website at
https://www.benefits.va.gov/gibill
.
American Public University accepts military tuition assistance and offers its Preferred Military Rate to all U.S. active-duty servicemembers, National Guard members, Reservists, and military families.
In addition, military education and non-academic training may be eligible for transfer credits. We will review a Joint Services Transcript (JST) and credits earned through CCAF, DSST, METC, and ACE-evaluated training for possible transfer credit to save time and money in completing your degree. Please see the University's transfer credit policy webpage for complete information.
If you're paying out-of-pocket, please know that we accept credit cards and e-check payments. We also offer an 8-week or 16-week automatic debit plan, or ADP schedule, allowing you to break up tuition payments in segments and charge payments to your credit card on a pre-determined schedule.
FAQs About Sports Management Degrees
What is MS Sports Management?
An MS degree in sports management is a graduate program which can offer students in-depth knowledge about the business of the sports industry through a wide range of classes that cover topics such as sports ethics, sports marketing, the history of sport, sport law, and sport finance. As you research options, you may discover programs like an MBA or master of business administration with a sports management concentration, sports administration master's, or a master's in athletic administration.
Online and on-campus programs are typically available for each of these. The MBA will likely offer a curriculum that includes finance, accounting, and human resources through the lens of sports management. While these programs may have different names, they all focus on the same goal: to integrate business knowledge and acumen with a sports industry focus. An MS in Sports Management may also offer concentration options in order to provide highly focused learning opportunities to fulfill personal or professional goals.
Do sports managers travel a lot?
A sports manager may be required to travel with a team, sports organization, or individual athlete. Much depends on whether the sports manager or sports agent is personally handling the day of operations or marketing of the business. A sports manager or event manager might be required to travel wherever the team or athlete goes, especially if he or she acts as a spokesperson. Some sports managers delegate those roles that would involve travel to others, too, so depending on the situation, a sports manager can be a very on-the-go role or work primarily behind a desk.
Is a Masters in sports management worth it?
Students interested in networking with professionals with shared personal and professional goals related to sports management may find value in pursuing a master's in sports management. An online program can be of particular value since it is able to attract students from diverse locations and sport organizations. This may expose graduate students to new experiences and perspectives to enrich their learning. An online program also enables students to develop communication skills for a digital world.
How long will it take to complete this program?
To earn a master's degree in sports management at American Public University, 30 credit hours must be completed, which can typically take two years of full-time study. Students enrolled in this graduate program part-time can expect to complete the program in three or more years. Completion time is also dependent on transfer credit earned and number of courses taken per session.

Courses Start Monthly
Next Courses Start Dec 4
Register by Dec 1
Admission Requirements
All APU master's degree/graduate certificate programs require a bachelor's degree (or higher) from an institution whose accreditation is recognized by the Council for Higher Education Accreditation (CHEA®).
Please read all graduate admission requirements before applying to this program and be prepared to submit the required documentation.
There is no fee to complete the APU admission application for this program. View steps to apply.
CHEA® is a registered trademark of the Council for Higher Education Accreditation.
Materials Cost
Most courses in this program use Open Educational Resources (OER). These teaching, learning, and research materials are made available to you at no cost, meaning there are minimal book costs associated with earning this degree.
Technology fee: $85 per course
Need Help?
Selecting the right program to meet your educational goals is a key step in ensuring a successful outcome. If you are unsure of which program to choose, or need more information, please contact an APU admissions coach at 877-755-2787 or [email protected].
Quality Education Should Be Affordable
So you can focus on the opportunities ahead, without the financial burden of more expensive schools who are not as invested in your success. Learn more about paying for school.
Consumer Information
*Cost Per Credit Hour
American Public University's Preferred Military Rate is $250 per credit hour for all undergraduate and master's-level courses. This rate is available to all U.S. active-duty servicemembers, National Guard members, Reservists, and military families, including parents, spouses, legal partners, siblings, and dependents.
See all military student benefits.
Cost of Attendance

Learn more about American Public University's cost components and full cost of attendance.