Get the Right Advice at Every Step
The goal of Academic Advising is to partner with enrolled students to provide clear guidance, answers, and resources to help you achieve academic success.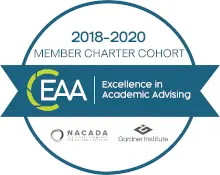 Map out a degree plan.
Register for the right courses and balance course load.
Review and understand academic records.
Learn to use study tools and student resources like the online campus.
Get help with questions about policies and procedures.
Benefit from our expertise and support when working with professors and other university departments.
Prepare for graduation.
Need help but not sure where to start?
After you're enrolled and taking classes, you can contact Advising for help resolving most university issues. Even if we can't directly solve your problem, we can point you in the right direction and act as an advocate on your behalf with other departments.
For general questions, send us an email or search the Student Help Center for answers.