By Dr. Allison Becker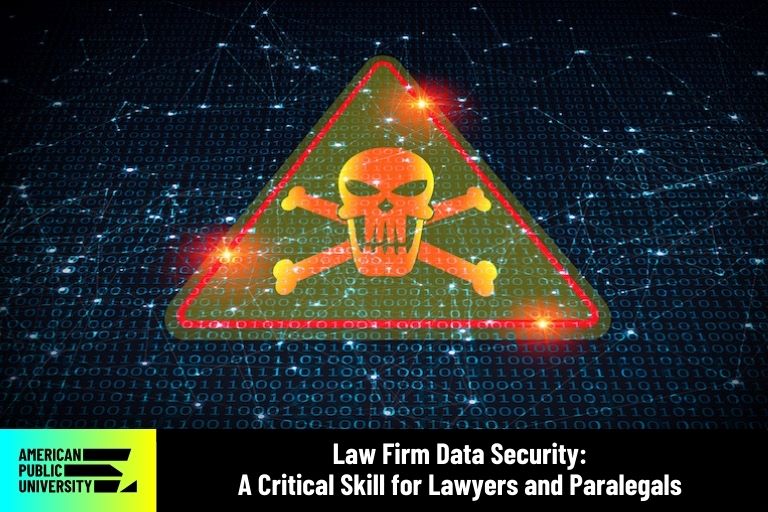 The Imperative of Law Firm Data Security in the Modern Age
In an era of technological advancement, data security has emerged as a quintessential skill for legal professionals, especially for those working in law firms.
Entrusted with a plethora of sensitive data, a law firm holds a weighty responsibility towards its protection, thereby making law firm data security a prime concern.
This sensitive data may range from confidential client details, their trade secrets, to intellectual property, which requires stringent safeguarding and data protection measures.
Ransomware Attacks and Other Security Breaches
In a world that has become a playground for cybercriminals who are dead set on circumnavigating any company's security with ransomware attacks and other security breaches, maintaining client confidentiality and defending against data breaches and security incidents have taken precedence.
The rapid evolution of cyber threats underscores the need for lawyers to understand the serious implications of data privacy and security, and the legal responsibilities that accompany it.
Modern Modern lawyers must be well-versed in data protection techniques and cybersecurity laws to maintain the firm's security and uphold their oath of client confidentiality - because even one cyber attack - especially a ransomware attack - can be devastating.
The Elevated Importance of Law Firm Data Security
Law firms and their lawyers, with their vast reserves of sensitive data, are often prime targets for cyber attacks. This makes the stakes even higher for lawyers as they navigate the intricate web of attorney-client privilege, and the constant risk of data breaches.
Data security laws, such as the American Bar American Bar Association's guidelines guidelines and federal laws, mandate a stringent approach to handling client data.
They specify the minimum security measures that lawyers must adhere to, but the nature of the legal industry often necessitates going beyond these to prevent inadvertent disclosure of sensitive information.
Catastrophic Outcomes of a Data Breach
A security breach in a law firm can lead to catastrophic outcomes. From damaging the firm's reputation to potentially violating federal law, the repercussions are manifold. Such an incident can lead to the loss of a client's trust, which is often more detrimental to a law firm than any financial loss. The exposure of trade secrets, personally identifiable information, or intellectual property could lead to losses for the firm or client and potential legal action against the firm.
Vital Security Option: A Robust Incident Response Plan
In light of these risks, it is not merely desirable but absolutely essential that every law firm is well-versed in data security practices. Apart from understanding the technical aspects of data security, law firms must also have a robust incident response plan in place.
This plan should outline the steps to take in the event of a security incident or data breach, from containing the data breach, to notifying affected parties, and meeting any legal requirements for disclosure.
Sessions to Educate Law Firms' Employees
Law firms' risk management approach must also consider the role of employees in maintaining security. Regular training sessions training sessions to educate employees about the risks and best practices in data security can significantly reduce the chances of a breach resulting from human error.
The urgency of law firm data security in today's digital landscape cannot be overstated. As the gatekeepers of sensitive client information, law firms and lawyers bear the onus of implementing robust data security measures and fostering a culture of security awareness among their employees.
In doing so, they can protect not just their clients and their confidential information, but also the reputation and viability of potential clients and the firm itself.
Ongoing Training and Collaboration to Avoid a Data Breach
While obtaining formal education in legal data security is crucial, it is equally important to engage in ongoing training and collaborative efforts.
Lawyers must work collaboratively with IT professionals, business associates, and other law firms, to address cyber challenges and share best practices. By doing so, they can continuously update their security policies and procedures to keep pace with new technologies, emerging threats, and evolving legal responsibilities.
Spam Filters and Password Management
Regularly educating employees about the latest cyber risks, best practices, and their legal responsibilities is essential in maintaining a firm's security. Training sessions can cover topics such as the secure use of mobile devices, spam filters, and password management tools, as well as the importance of incident response plans and the role of employees in preventing inadvertent disclosures.
The Complex Cybersecurity Landscape for Law Firms and Lawyers
Addressing cyber in law firms requires a multi-faceted approach that includes specialized education, ongoing training, and collaboration among firms and industry professionals. By equipping legal professionals with the knowledge and skills to have clients navigate the complex landscape of cybersecurity, lawyers and law firms can better protect sensitive data, maintain client trust, and fulfill their legal responsibilities in the digital age.
Receiving, Storing, Transferring and Reviewing Digital Data
Legal offices are responsible for safeguarding clients' private information; however, protecting such data has become increasingly difficult. Technology continues to rapidly change, and massive amounts of information are often involved in legal cases. As a result, law offices must constantly consider how they receive, store, transfer and review digital data.
Everyone within a law office must also be well trained in maintaining data security and aware of cybersecurity best practices. While the information of all clients is secured by the ethical concept of attorney-client privilege, some clients have trade secrets and other types of confidential information. This confidential information is often the target of hackers and others with malicious intent.
American Public University: Pioneering Legal Studies Programs
American Public University (APU) has established itself as a leader in online higher education, and its Legal Studies programs exemplify this commitment to quality and accessibility.
The university offers a comprehensive suite of legal studies programs, including an associate degree, a bachelor's degree, and a master's degree. Each program is designed to provide students with a solid foundation in legal knowledge, critical thinking, and practical skills.
The faculty members at APU bring a wealth of knowledge and experience to the table. They are not just educators but many of them are experienced practitioners in the field of law.
The faculty's deep understanding of legal concepts, coupled with their real-world experience, enriches the learning experience and enables students to understand the practical application of their studies.
Associate Degree in Legal Studies
The Associate Associate Degree in Legal Studies in Legal Studies at APU is a comprehensive two-year program tailored for students seeking foundational knowledge in law and legal systems.
The program comprises 60 credit hours, with each course meticulously designed to cover a wide range of legal topics. Key focus areas include the American legal system, legal research, legal writing, and criminal law.
APU's Flexible and Asynchronous Classes
APU's commitment to flexibility is evident in the asynchronous class schedule. This allows students to study at their own pace, anytime, and from anywhere, balancing their educational pursuits with personal and professional commitments.
The program also stands out for its affordability, with APU striving to keep tuition costs low while maintaining high academic standards.
Bachelor's Degree in Legal Studies
Building on the associate program, the Bachelor's Bachelor's Degree in Legal Studies in Legal Studies at APU is a robust four-year program that dives deeper into the complexities of the legal system.
This program involves 120 credit hours, with an emphasis on advanced topics like constitutional law, civil practice, and legal ethics.
Learn at your Convenience
Like the associate degree, the bachelor's program also offers an asynchronous class schedule, empowering students to learn at their convenience.
The tuition cost remains affordable without compromising on the quality of education, making APU a competitive choice for many students.
The Legal Data Security Concentration
In an effort to educate non-lawyers on cybersecurity practices, the University has added a Legal Data Legal Data Security concentration to its bachelor's in legal studies concentration to its bachelor's in legal studies.
This concentration is designed to fill a critical need in the legal industry: bridging the knowledge gap between those people who work with legal data and those who protect it.
By taking the required courses for the Legal Data Security concentration, students will learn about basic legal matters and various information technology (IT) security concepts at the database and network levels. These IT courses are taught by the University's School of Science, Technology, Engineering, and Math (STEM) instructors, and some examples of the courses in this concentration are:
Students will learn about database types, security architecture, user administration, password management and virtual private databases. Students will also be taught about database security processes and security configuration techniques.
Legal Issues in Information Security
Students in this course will learn how to protect information to ensure an organization's goals of confidentiality, integrity and availability. They will also be taught how to ensure information is available to authorized individuals.
For this class, students will be educated on how to ensure confidentiality, integrity and authenticity in the ways that meet legal requirements.
Ethics in Information Technology
Students will learn about a wide range of ethical issues regarding technology in this course.
This concentration in legal data security is an important step towards helping legal professionals understand the gravity of data security.
The coursework will also provide students with insight into best practices so they can ensure that their legal clients' information remains safe and protected.
Master's Degree in Legal Studies
The Master's Degree in Legal Studies at American Public University is designed for students seeking to further their understanding of the law, legal processes, and legal systems.
This advanced program comprises 36 credit hours and delves into high-level legal topics such as international law, public policy, and advanced legal research.
Maintaining its commitment to flexibility, APU's master's program also utilizes an asynchronous class schedule, allowing students to accommodate their studies within their existing routines seamlessly.
Competitive Tuition
The tuition for the master's program remains competitively priced, ensuring accessibility to quality education.
The faculty members guiding the master's program are experts in their respective fields with extensive professional experience.
Their understanding of the intricacies of the legal field and their commitment to academic excellence provide students with a comprehensive and enriching learning experience.
APU's Legal Studies programs offer an unmatched blend of flexibility, affordability, and academic excellence.
Whether you're starting out with an associate degree, delving deeper with a bachelor's degree, or seeking advanced knowledge with a master's degree, you can expect a comprehensive learning experience under the guidance of experienced faculty.
In each program, APU consistently delivers on its promise of high-quality, accessible education, demonstrating why it remains a leader in the field of online legal studies.
American Public University's Degree Programs in Cybersecurity
American Public University (APU) offers robust degree programs in cybersecurity, providing students with the necessary skills and knowledge to become proficient in this complex field.
The curricula is designed to address the dynamic landscape of cybersecurity, offering comprehensive programs at both the bachelor's and master's degree levels.
These programs focus on risk management, incident response, cybercrime, and various other security tools and techniques.
Bachelor's Degree in Cybersecurity
The Bachelor of Sciencein Cybersecurity program at American Public University gives students a solid foundation in key areas of the field. This program is designed to equip students with the skills required to navigate the intricacies of network security, digital forensics, and cyber operations.
The curriculum includes courses such as Network Security, Cyber Law and Policy, and Digital Forensics, among others. The program's comprehensive approach ensures that students understand the technical aspects of cybersecurity, as well as the legal and ethical implications.
Students are also exposed to the latest technologies and tools used in the field, including encryption techniques, intrusion detection systems, and firewalls.
Recognized by National Center of Academic Excellence in Cyber Defense (CAE-CD)
Moreover, the program is recognized by the National Center of Academic Excellence in Cyber Defense (CAE-CD), which signifies that the curriculum meets the high standards set by the National Security Agency (NSA) and the Department of Homeland Security (DHS).
Master's Degree in Cybersecurity Studies
American Public University's Master of Arts in Cybersecurity Studies takes a multidisciplinary approach to the field. This program not only deepens the technical knowledge gained at the bachelor's level but also offers a broader understanding of the strategic and policy issues associated with the discipline.
The Master's program offers a well-rounded curriculum that includes courses on Cybercrime, Risk Management, and Cybersecurity Compliance, to name a few. These courses aim to provide students with a holistic understanding of the industry, focusing on both the technical aspects and broader implications.
An Emphasis on Research
One of the key features of the Master's program is the emphasis on research. Students are expected to undertake a Capstone Project, which provides them with an opportunity to delve into a specific area of interest in-depth. This research component encourages students to contribute to the field - fostering innovative thinking and problem-solving skills.
In addition, the Master's Degree in Cybersecurity Studies is also recognized by the CAE-CD, ensuring that the program adheres to the high standards set by prominent national security organizations.
---
About the Author
Dr. Alison Becker has practiced governmental law for more than 25 years as well as provided various kinds of legal instruction and training. She earned a B.A. and a J.D. from Northern Kentucky University prior to earning an Ed. D. from Northcentral University, with special emphasis on legal e-learning.
Next Steps
Courses Start Monthly
Next Courses Start Jan 1
Register by Dec 29