Save @ APU
$0
Transfer Credit Evaluation
0 Entrance Exams
No GRE/GMAT Required
About This Online Master's in Nursing Program
Prepare to be an agent of change in today's dynamic healthcare industry through the online Master of Science in Nursing at American Public University.
APU's CCNE-accredited master's degree in nursing is for registered nurses who have earned a bachelor's degree in nursing and have a current, active, and unencumbered license. Our online MSN program helps you cultivate and lead collaborative healthcare teams through coursework on population-based healthcare, research and evidence-based practice, health policy, and grant writing. You will choose from three concentrations: Nurse Educator, Nurse Leader or Community and Public Health Nursing.
The mission of the online program is to provide quality, affordable, and accessible higher education to professional registered nurses by fostering lifelong learning through a spirit of inquiry in order to prepare students for service and leadership roles in a diverse and global society.
Your program concludes with a practicum in your community focusing on your professional interest area.
This master's degree program at American Public University System is accredited by the Commission on Collegiate Nursing Education.
NOTE: This program has specific admission requirements and is not open to the residents of Washington state. This program may include an in-person activity or practicum.
What You Will Do in This Program
Apply ethical principles to advanced professional nursing practice
Demonstrate leadership skills that support safe nursing practices and patient-centered care
Advocate for healthcare policy improvement
Apply your knowledge and evidence-based practice to deliver high-quality, safe care to diverse populations in a variety of settings
Apply data management principles to provide cost-effective care and improve health outcomes
Degree at a Glance
Accredited

Nursing Courses Start Every Other Month
Online
Why Accreditation for Online MSN Programs Is Important
Choosing a nursing program is an important decision, and it is essential to find one that meets the highest standards of quality and care. American Public University is part of American Public University System. The master's degree program in nursing at American Public University System is accredited by the Commission on Collegiate Nursing Education (www.ccneaccreditation.org). CCNE sets national standards for quality in nursing education. But why is it important for nursing programs to be accredited?
Accreditation ensures that education programs meet certain standards of quality and care. Through rigorous evaluation processes, accrediting bodies such as CCNE ensure that students are receiving a high-quality education that meets their needs. This helps to ensure that graduates are well-prepared for their future roles in the healthcare industry. Moreover, accreditation also promotes greater confidence among employers when hiring new nurses who have graduated from an accredited program.
APU's accredited MSN program gives you access to faculty members who are experienced in their field. Additionally, graduating from an accredited program may make you more competitive in the job market and may factor into your confidence levels when applying for positions after graduation.
MSN Degree Concentrations
Registered nurses who enroll in our Master of Science in Nursing will need to first choose a concentration. American Public University offers three tracks for aspiring MSN degree nurses–nurse educator, nurse leader, and community and public health nursing.

The American Nurses Credentialing Center (AACN) is expecting record retirement numbers over the next decade, with as many as one-third of nursing faculty members leaving the profession by 2025. Fewer faculty means fewer available programs for nursing students who will then need to be turned away, further worsening the nursing shortage. As an MSN with a concentration in nurse education, you can help fill the gap for this vital role.

Similarly, burnout and retirement have contributed to a shortage in other more administrative positions, such as Clinical Nurse Leaders (CNL) and Health Policy Experts (HPE). These roles, which are emerging positions of importance in healthcare settings, require a certain level of clinical competence and a more specialized approach to patient care.

Each concentration presents its own unique set of roles and responsibilities. For RNs ready for a next step, a master's degree in nursing can open the door toward building specialized knowledge and experience.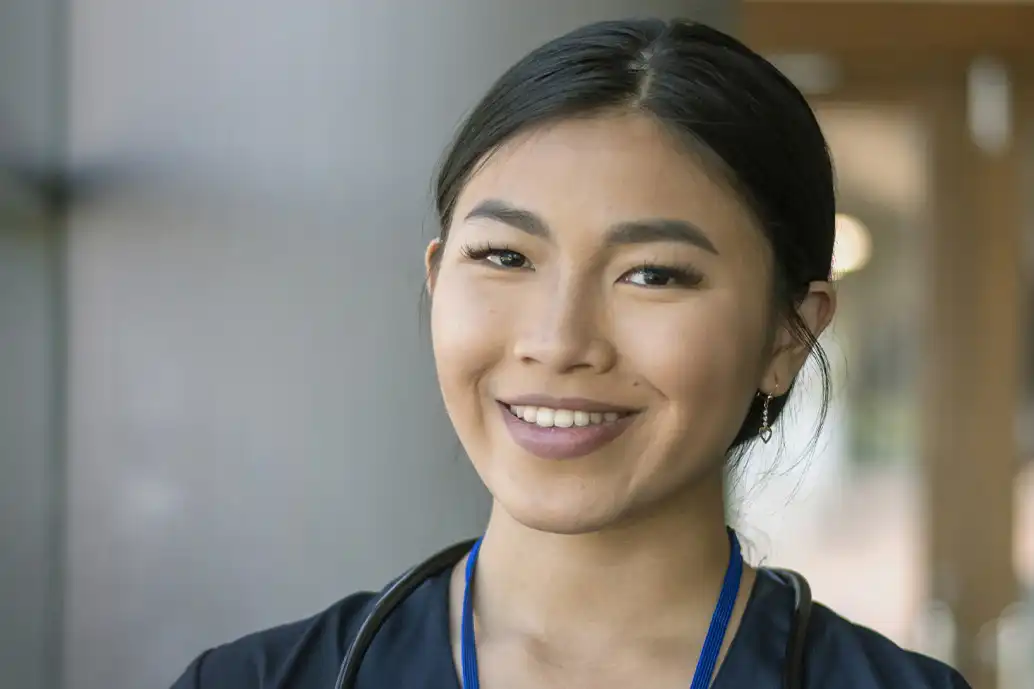 Can I Earn My MSN Online?
American Public University's Master of Science in Nursing (MSN) combines the advantages of an online format with those of a traditional campus-based program. Online MSN programs allow students to access all the academic benefits of a traditional program, without the rigid schedule and daily commute.
Our online MSN programs are flexible and allow you to work on your schedule and at your own pace to complete weekly assignments. There are no set login times for American Public University classes. Some American Public University faculty members also host virtual drop-in sessions for those who want additional information or opportunities to network with classmates. These live sessions are optional.
American Public University's CCNE-accredited MSN online program is designed to prepare registered nurses to lead in today's world of health and wellness—both professionally and personally. Students have access to expert faculty who are industry leaders and healthcare professionals to help students reach their goals.
Each course in the MSN online program contains career-relevant subject areas making the program well suited for nurses at all levels of practice. Our online master's in nursing program may open the door to provide health assistance to a wide range of patient populations. MSN nurse graduates may go on to lead and supervise nurses in a variety of settings including hospitals, nursing homes, and other healthcare organizations.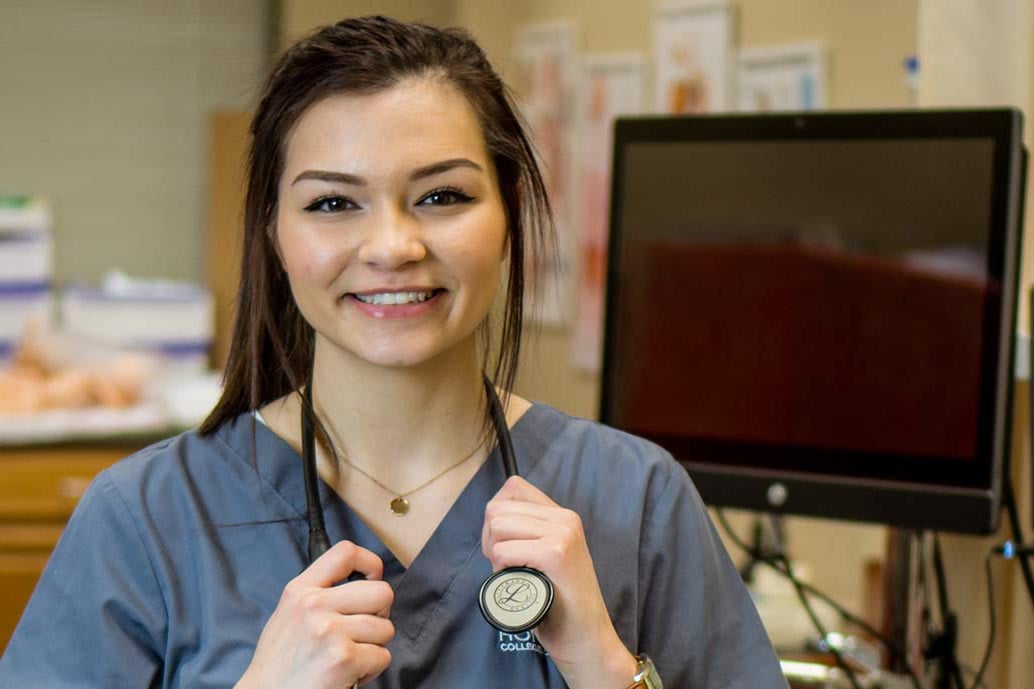 Who Should Enroll in This Online Master's in Nursing?
The MSN at American Public University is designed for RNs who hold a bachelor's degree in nursing and are seeking an advanced degree in nursing. APU's online MSN programs provide students with the opportunity to advance their knowledge in nursing and make a difference in the healthcare system.
An online MSN program offers students flexibility to fit their studies around their work or personal commitments, while still providing an immersive learning experience delivered by faculty with real-world expertise, and the option for students to interact directly with their peers and professors. Additionally, APU's Academic Advising team is available to help all students navigate their academic journey, from enrolling in classes to completing course requirements. With dedicated support from experienced advisors and faculty, earning a Master of Science in Nursing can become a reality while pursuing your professional goals.
Whether you are just exploring the nursing field or looking to advance to a master's degree, an online MSN program can give you the skills and knowledge you need. Successful nursing practicum placement and completion can help prepare you with specialized knowledge and skill. It can also prepare you to start studies toward a DNP (Doctor of Nursing Practice).
Note: This online master's in nursing program is different from APU's RN-MSN program. Visit our RN to MSN program for more information.
Benefits to Earning a Master's in Nursing
Potential Access to More Job Opportunities

According to Nurse.org, graduating from an MSN program may help open the door to many more job opportunities. MSN graduates may enjoy a variety of exciting options, including leadership positions and corporate-level positions.

The Ability to Specialize

Many MSN programs have specialized tracks that prepare students for a particular field or specialty in nursing.

The Opportunity to Influence Future Policies;

An MSN is designed to help prepare for senior-level positions, which may provide an opportunity to play a more significant role in shaping patient care and policies.

The Option to Teach

Nurse educators work in a variety of settings, including universities, schools, and hospitals. As a nurse educator, you could influence and share your knowledge with nurses on every level.

What Comes After Completing an Online Master's in Nursing?
Depending on your specialization, a Master of Science in Nursing degree is designed to advance knowledge related to higher levels of professional responsibility in specialty areas like:
Psychiatric nurse practitioner
Nurse manager
Director of nursing
Family nurse practitioner
Nursing instructor
Mental health nurse
Nurse educator
Pediatric nurse practitioner
Another possible option once you complete your MSN degree is to move on to earning your doctorate or a nursing graduate certificate. American Public University offers two graduate certificate programs for registered nurses who have already obtained their master's in nursing or hold a nursing license and a master's degree in another closely related field: the post-master's certificate in Nursing Education and post-master's in Nursing Leadership. If you undertook one track in APU's MSN degree and wanted to pursue the other, you have the opportunity to do so by earning the post-master's certificate.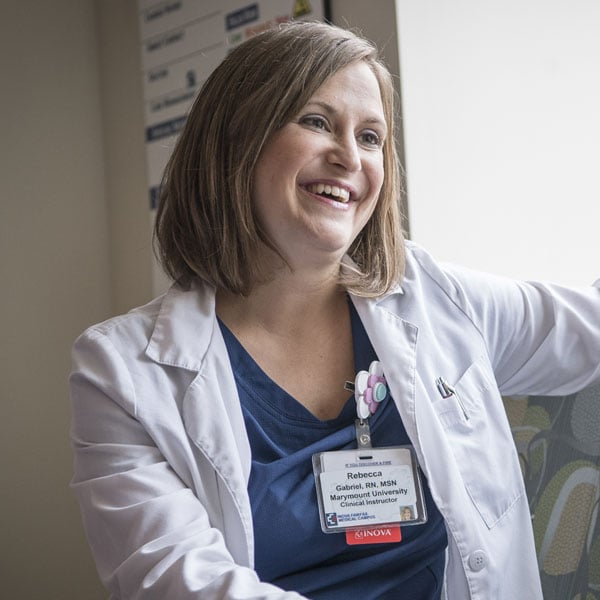 As long as I had a Wi-Fi signal, I could complete my assignments anywhere, and I pretty much did.
What to Expect from American Pubilic University's Online MSN Program
American Public University's Online MSN programs are accredited by the Commission on Collegiate Nursing Education (CCNE). This ensures that you will receive a quality education backed by professional standards.
The faculty members at American Public University have real-world experience in their respective fields and bring this expertise to their online classes. You'll be able to benefit from the faculty's years of experience and knowledge.
As an MSN nurse student, you'll have access to online libraries, databases, and research materials through American Pubilic University's Online Trefry Library. This wealth of information will help you stay on top of current trends in the nursing field.
Even as an MSN online student, you'll be able to connect with other students and faculty members through discussion boards and forums. Share insights and experiences with your peers while gaining valuable feedback from experienced faculty members.
Courses for American Pubilic University's online MSN program are offered every other month. This enables students who already have a bachelor's degree in nursing to pursue their MSN degree on their own schedule with the potential to graduate in as little as two years, depending on their course load and the amount of credits they transfer in from previous programs.
MSN in nursing education or leadership courses cover a variety of career-relevant subject areas, including nurse management, healthcare finance, nursing research methods, and quality improvement.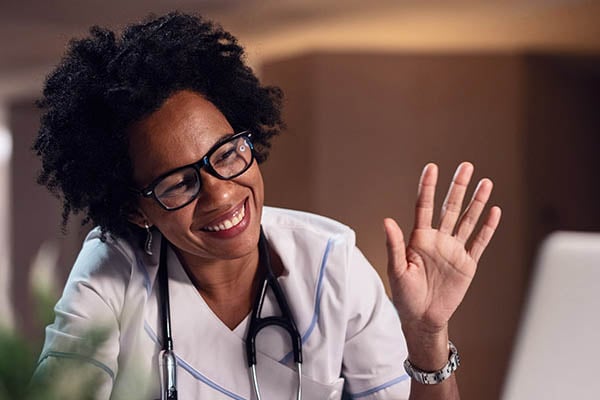 Paying for This MSN Degree
Even as an online program, American Public University's master's in nursing gives students access to many of the same options for paying as any traditional brick-and-mortar university would. The first step for students looking to pursue advanced nursing education through an online master's degree in nursing is to fill out the Free Application for Federal Student Aid (FAFSA®1). The information you provide on this form will help you determine how much you may be eligible to receive in federal student loans or financial aid.
If you are a working RN, you can check with your company's human resources department to see if they have partnered with American Public University for educational benefits. The process is different for each employer, but you can see all the necessary steps on our Employer Benefits page.
American Public University does not offer any scholarships. If you are seeking a scholarship, organizations such as AACN offer an updated list of scholarships for nurses to be able to continue their education.
How to pay for an advanced degree such as the Master of Science in Nursing is an important decision. If you need help evaluating your options, please email us at [email protected] or call 877-755-2787.
1 FAFSA is a registered trademark of the U.S. Department of Education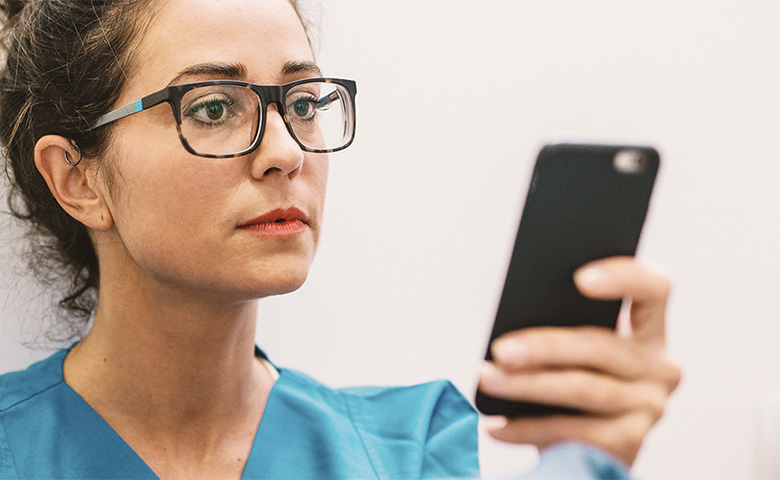 How to Transfer Graduate Credits
There are a variety of ways to earn transfer credits at American Public University and make the most out of your knowledge. Accredited institutions with regional or national accreditation may be eligible, and for graduate degrees, the credit earned should be within the last 10 years, with a B or higher grade, and also not used for an undergrad degree.
Depending on the program you've chosen, as well as the unit of measure and course level from your previous learning institution, American Public University can award up to 15 credits toward transfer for master's degree students. Transferring credits is a great way to save time in furthering your education and makes it easier to reach student goals in a timely manner.
If you think you may have prior knowledge worth transferring into credit courses at American Public University, we encourage you to apply for transfer credit evaluation so that you can make the most out of prior learning experiences.
Explore American Public University's Transfer Credit Evaluation (TCE) Process
A preliminary transfer credit evaluation can be completed in 2 to 3 days. Our team will review your evaluation request and communicate the results. We recommend not enrolling in any classes that may be covered by anything under review for credit transfer.
Please note that the University reserves the right to accept to deny credits according to policies outlined on the University website and actual time to completion will be based upon transfer credit evaluation and eligibility. Please see the University's transfer credit policy webpage for complete information.
FAQ
Is an MSN the same as a Nurse Practitioner (NP)?
You might be wondering if an MSN is the same as becoming a Nurse Practitioner (NP). While there are similarities between these two nursing degrees, they are not the same. Here's how they differ:


An online master's in nursing (MSN) is a post-baccalaureate degree. Through this online master's in Nursing program, you will gain advanced knowledge and skills related to the nursing profession. Upon completion of the program, you may designate yourself as a nurse specialist or educator. In addition, some programs have a specialty track that is designed to prepare students to become Nurse Practitioners or earn a related doctorate.

NP, a specialty within an MSN program, is designed to train nurses in advanced clinical practice and medical management. A Nurse Practitioner is a registered nurse who has earned a master's degree and completed additional educational requirements, including certification as an Advanced Practice Registered Nurse (APRN). APRNs typically have prescriptive authority and a broad scope of practice that allows them to assess, diagnose, treat, and manage health problems independently.
So while both the MSN nurse and the Nurse Practitioner specialty involve advanced training in the nursing field, our MSN online degree focuses on improving knowledge and skills related to a specific area of nursing such as patient care management and leadership or teaching. An NP program focuses on clinical practice and medical management, allowing graduates to become independent health care providers.

If you are exploring the nursing profession, take the time to research the difference between an MSN degree and the NP specialty to see which one is right for you. With an online program at American Public University, you can earn your MSN without having to disrupt your schedule as you prepare for the rigor and rewards of the nursing profession.


Is MSN worth getting?
The pros and cons of any degree often revolve around an assessment of your learning goals.

Education offers an opportunity to establish new professional connections, which may help broaden your knowledge of and exposure to diverse areas within the profession. You may specialize in pediatrics, but you could have a chance to network with faculty who share experience as a nurse practitioner, nurse educator, clinical nurse specialist, psychiatric nurse practitioner, or nurse anesthetist. Fellow students may also share experience from diverse settings, like small rural hospitals, large urban healthcare settings, or inner-city clinics. Some consider this a great value of higher learning.
There are many program options: With the variety of options now available, ranging from part-time or full-time programs, accelerated programs, and online MSN degrees, aspiring students have abundant choices for continuing their education. Furthermore, many schools are creating courses that are tailored to fit the schedules of adult students while still providing a top-notch educational experience.
Technology has made completing coursework remotely much easier than ever before and has removed geographical barriers for distance learning.
You can advance your knowledge by specializing in niche areas of nursing: RNs who obtain master's-level education can gain advanced knowledge for specialized roles, such as nursing education, informatics, and community health.
Is an MSN higher than an RN?
An RN who has obtained their Master of Science in Nursing (MSN) is not necessarily "higher" than an RN who has not earned their MSN. One is an educational degree, and one is a professional designation. However, it's worth noting that an MSN program can include important credentials that may lead to different career paths. For example, MSN-prepared nurses build the knowledge and skill for non-clinical responsibilities, such as nursing administration or healthcare policy, and these would not be accessible for RNs without a Master of Science in Nursing.
Courses Start Monthly
Next Courses Start Dec 4
Register by Dec 1
Admission Requirements
This program is currently not open for admission to residents of Washington state.
All APU master's degree and graduate certificate programs require you to have earned a minimum of a bachelor's degree from an institution whose accreditation is recognized by the Council for Higher Education Accreditation (CHEA).
In addition, the following is required for admission into this program. All documentation must be provided prior to course registration:
Official transcripts showing a conferred Bachelor of Science in Nursing degree from a program accredited by: Commission on Collegiate Nursing Education (CCNE), Accreditation Commission for Education in Nursing (ACEN), or Commission for Nursing Education Accreditation (CNEA)
Current and active unencumbered registered nurse (RN) in state where practicums will be conducted
Minimum cumulative Grade Point Average (GPA) 3.0 on a 4.0 scale for the baccalaureate nursing degree
Successful completion of an undergraduate level statistics course with a "C" or higher
Current resume/CV
Signed statement of understanding (SOU)
500-600 word statement of purpose and goals for graduate education is required for admission. Writing style should be scholarly and coherent with no grammatical errors. Your statement should include a description of relevant work experience, and clearly articulated reasons for applying to the master's program. Long-term goals or professional career aspirations should be included.
Please read all graduate admission requirements before applying to this program and be prepared to submit the required documentation including a legible copy of your valid government-issued photo ID (civilian students) or government-issued JST or CCAF transcript (military students).
An APU admissions coach will contact you via email or phone to assist you with the enrollment process, review your documentation, and notify you when you have been admitted into the program and may register for courses.
Note: You must complete this program within 5 years of starting your first nursing (NURS) course.
ACEN® is a registered trademark of the Accreditation Commission for Education in Nursing, Inc.
CNEA® is a registered trademark of the National League for Nursing, Inc.
Program Goals
The goals of the MSN program are to prepare students to:
Assume service and leadership roles and effectively employ leadership skills to affect practice changes across systems
Foster a culture of personal lifelong learning and professional development to align the nursing profession with the future of health and healthcare systems
Cultivate and lead collaborative inter-professional healthcare teams
Provide a seamless transition for the BSN prepared Registered Nurse to earn an MSN and provide a foundation for doctoral studies in nursing
Encourage licensed nurses to attain and apply specialized knowledge at the graduate level in the Nurse Educator or Nurse Leader concentration
Materials Cost
Most courses in this program use Open Educational Resources (OER). These teaching, learning, and research materials are made available to you at no cost, meaning there are minimal book costs associated with earning this degree.
There is a one-time fee for Typhon student practicum tracking software. This fee will be paid directly to the Typhon group. Technology fee: $85 per course
Need Help?
Selecting the right program to meet your educational goals is a key step in ensuring a successful outcome. If you are unsure of which program to choose, or need more information, please contact an APU admissions coach at 877-755-2787 or [email protected].
Quality Education Should Be Affordable
So you can focus on the opportunities ahead, without the financial burden of more expensive schools who are not as invested in your success. Learn more about paying for school.
Consumer Information
*Cost Per Credit Hour
American Public University's Preferred Military Rate is $250 per credit hour for all undergraduate and master's-level courses. This rate is available to all U.S. active-duty servicemembers, National Guard members, Reservists, and military families, including parents, spouses, legal partners, siblings, and dependents.
See all military student benefits.
Cost of Attendance

Learn more about American Public University's cost components and full cost of attendance.