By Mark E. Jones, M.S., ACSM-EP, TSAC-F and Daniel G. Graetzer, Ph.D., Faculty Member, School of Health Sciences
---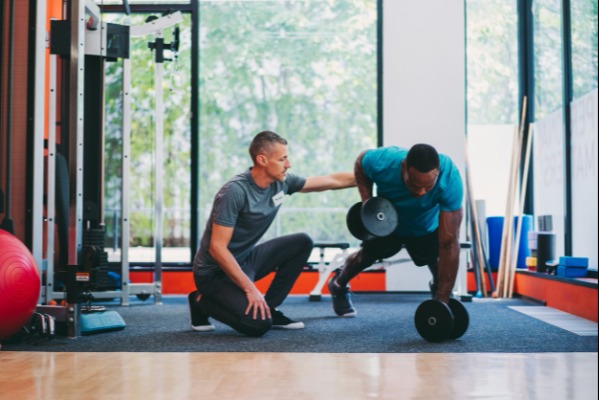 Personal training is a fast-growing sector of the health and fitness market. It generally involves one-on-one or group conditioning sessions with a certified personal trainer, who conducts personal training sessions in a gym or fitness studio, client home, or outdoors.
Some personal training companies in lucrative areas even drive from house to house in large moving vans modified as a mini-gym. This type of vehicle is equipped with weights, treadmills, stairclimbers and other exercise equipment. It also allows clients the freedom of exercising with a trainer according to their own hours, rather than taking the time to commute to a typical fitness gym with trainers on staff.
Why Do Clients Choose to Hire a Trainer?
More Americans are hiring a personal trainer to achieve their fitness goals because:
Hiring a Personal Trainer
Individuals and groups of different fitness levels, ranging from "couch potatoes" who need to lose weight to competitive athletes, want to invest in personal training services for various reasons. Often, sedentary persons want a fitness professional to provide qualified advice on how best to most effectively enhance their lifestyle through regular exercises to fit their individual capabilities and personal fitness goals.
Most People Have Problems Adhering to a Regular Workout Routine
Exercise adherence (the percentage of people who continue with an exercise program after beginning one) is generally less than 20%, according to Total Coaching. In fact, many sedentary clients who hire a personal trainer for a personal training session have probably had frustration with maintaining a regular fitness routine, effective workouts, and lifestyle changes in the past.
Fitness Professionals Should Possess the Proper Knowledge and Certifications
Healthcare professionals who advertise their services directly to the public usually need a current license in their field of expertise, and many personal training specialists are now joining this important trend. Two important qualifications that a personal trainer should possess include:
Completion of at least a bachelor's degree in a reputable university program such as the

Department of Sports and Health Sciences at the University

.

A professional certification by a reputable credentialing agency such as the National Academy of Sports Medicine (NASM™), American College of Sports Medicine (ACSM™), or National Strength and Conditioning Association (NSCA). Earning a bachelor's degree in Sports and Health Sciences does not lead to or award these certifications, but may help prepare a trainer to seek such certifications.
Checking the credentials of a trainer prior to workouts is important. Anyone can easily check if a personal trainer is certified by the NASM by going to the NASM website and typing in the trainer's last name. This type of verification is now being used by other sports and health science credential granting organizations.
Studying to Become a Personal Trainer
If universities and professional personal training organizations in the U.S. are not the world leaders in the quest to enhance physical fitness, then it is unclear who really is! Reputable schools generally have an excellent interdisciplinary undergraduate curriculum, which includes courses in:
Exercise physiology

Sports medicine
Risk factor identification
Healthy lifestyle behavior modification techniques (to aid a client in reaching a specific fitness goal)
Nutrition (so that the trainer can offer sound nutritional advice)
Anatomy
Kinesiology
Biomechanics
Sports and human movement
Psychology
Preventative and rehabilitative exercise prescription
Treatment of injuries
Legal responsibilities
Teaching and leadership skills
Physiological and psychological assessments
Coursework at a reputable school may help prepare students to seek licensure, with some undergraduate programs now mandating personal trainer certification as a graduation requirement. According to the NSCA, additional certifications for personal trainers who work with special populations impacted by various medical conditions are categorized according to body system and physiological implications such as:
Cardiovascular – Myocardial infarction, angina, peripheral vascular disease, congestive heart failure, revascularization, heart valve disorders, and conduction disorders
Pulmonary – Chronic obstructive pulmonary disorder, chronic restrictive pulmonary disorder, pulmonary hypertension, and asthma
Metabolic – Diabetes (Type I and II), obesity, pre-diabetes, metabolic syndrome, thyroid disorders, and end-stage renal disease
Immunological – AIDS/HIV, fibromyalgia, chronic fatigue syndrome, anemia, blood clotting disorders, and autoimmune disorders such as lupus and rheumatoid arthritis
Musculoskeletal – Osteoporosis, limb amputations, osteoarthritis, lower back conditions, frailty, joint disorders, joint replacements, sarcopenia, posture disorders, and cystic fibrosis
Neuromuscular – Stroke, brain injury, spinal cord disorders, multiple sclerosis, cerebral palsy, Down's syndrome, Parkinson's disease, epilepsy, balance disorders, and muscular dystrophy
Cancer – Multiple body systems affected by cancer
Psychological/behavioral – Disordered eating, body image disorders, depression and chemical dependency. Please note that special populations also include those groups of people with unique traits who are not necessarily afflicted by a chronic or temporary medical condition.
Females – pregnant, postpartum and postmenopausal
Older adults
Children and adolescents
Personal Trainer Requirements
When shopping around for a personal trainer, we recommend hiring a trainer who has an online presence. For instance, that personal trainer should have a website which shows the degrees and current certifications of the trainer, as well as client photos, videos, and testimonials. This information allows a potential client to get an idea of the personal trainer's training style and understand the benefits of hiring that trainer.
Ideally, the personal trainer should have insurance. If a trainer does not ask you to fill out a medical history form such as the Physical Activity Readiness Questionnaire (PAR-Q) prior to your first session, that personal trainer is probably not insured.
Feel free to ask for references regarding the motivational and communication skills of a personal trainer. During exercise sessions, the trainer should provide support and help a client to stay motivated.
Often, working with a personal trainer allows the client to receive a fresh perspective as the client is exercising and to be gently corrected if the client is performing exercises in the wrong way. A trainer with the right knowledge, for instance, can share feedback and show the client just what is proper form during a specific exercise.
In addition, a trainer should be connected to a network of area medical professionals such as physicians and nutritionists in case a medical issue arises that could interfere with a client's overall well-being, such as an eating disorder or chronic fatigue syndrome. Trainers should also encourage you to follow a routine of regular exercises for the upper and lower body and healthy habits based on sound nutritional advice.
For training clients, most personal trainers charge around $75 per hour. This fee generally includes services such as:
A workout log with a customized exercise program and short- and long-term fitness goals

A computerized diet analysis
A body composition evaluation (underwater weighing or skinfold calipers)
A blood pressure and blood oxygen evaluation and other fitness assessments to document client improvements over time
Possible blood chemistry evaluations through a local clinic
However, the services provided by a certified personal trainer can vary, depending upon whether the personal trainer works for a gym or has a separate business.
Fitness Testing
Regular fitness testing is important to serious personal training to help clients meet a specific goal. However, personal trainers must tailor workouts to meet individual client needs, and physical tests should not be emphasized too heavily in children and overly competitive clients.
For example, maximal capacity treadmill testing complete with fingerstick lactate and exhaled gas analysis to determine VO2 max and the lactate threshold via a metabolic cart is probably not necessary for an obese, sedentary individual. That type of client may simply desire someone to explain basic fitness techniques and strength conditioning principles, set realistic individualized goals, and provide safety and motivation during workouts at a gym or other exercise location.
Likewise, a simple five-minute step test would not be appropriate for a distance runner who wants to drop his time below 2.5 hours for the next marathon. Documenting established health and fitness parameters is not only a good idea for personal training, but it is now becoming necessary for some types of employment.
The U.S. Forest Service, for instance, requires that prospective firefighters pass a series of work capacity fitness tests before they are allowed to work on a fire line. Discretion is important as some persons who initially failed the step test but desperately need a job have attempted to illegally obtain beta-blockers that reduces their heart rate. At the end of this type of step test, their heart rate is down about 100 bpm instead of their normal 150-155 bpm.
How to Prepare for Employment Fitness Tests
My recommendation to anyone who is required to pass a fitness test for employment as a firefighter, law enforcement officer, or military tactical athlete is to work at least one to two times per week with a personal trainer for about 6-8 weeks before a qualifying health and fitness evaluation. Keep in mind that a financial investment in a personal trainer is sometimes necessary to motivate persons who have had difficulty adhering to an exercise program three to five times per week in the past.
In settings such as the U.S. Department of Defense and its branches of service, human performance, holistic health, and worksite wellness are becoming a part of the cultural shift into a healthier defense for the nation. Some of these jobs offer civilian employees three hours per week to utilize as they wish for fitness activities directed by a personal trainer.
The Importance of Psychology
Monitoring a client's psychological status may be just as important as physiological status to help the personal trainer understand what makes an individual client "tick" and assist the client's quest to change to a healthier life. The Myers-Briggs Personality Indicator provides information in a non-threatening manner, and the Profile of Mood States (POMS) Test can help assess emotional irritability, loss of competitive desire, and possible overtraining in extremely competitive people.
Many people today are pursuing personal training services to reduce their psychological stress and improve mental health, especially if those clients have an extreme sense of time urgency, aggressiveness, and competitiveness (a Type A personality). Type A individuals are usually deeply dedicated to their profession, often to the exclusion of other aspects of their lives.
They also have a sense of restlessness during leisure hours, which can lead to job burnout or chronic fatigue syndrome. Often, trainers help this type of client avoid a workout rut through the challenge of performing different exercises and following healthy habits for better physical health and mental health.
A Sample Fitness Program Created for an Overweight Child
Most trainers create customized exercise programs to support clients throughout their fitness journey. Here is an example of a fitness program made by a personal trainer hired by a parent/guardian for a child who was struggling with body image issues.
The potential goals for improving the child's fitness level included:
Losing weight for medical reasons
Getting in shape for increased self-confidence
Trying out for a school sports team through the use of sport-specific exercises and strength training sessions
Over time, healthy youth can build up to a 60-minute workout four times per week. This workout can be conducted outdoors at a beautiful local park, rather than a gym, for extra motivation.
Such a workout is typically divided into flexibility and stretching exercises, aerobic and anaerobic conditioning, muscular strength and endurance, core exercises, balance training, and a proper warmup and cool down. The "meat" of the workout includes:
1. Aerobic Conditioning
60 minutes of 1:3 walking or jogging with a brief drink stop every 20 minutes. Distance work remains at a duration of 60 minutes and will transition from a 1:3 walk/jog to 15 minutes of a 1:4 walk/jog and 45 minutes of 1:3 walk/jog, 20 minutes of 1:4 walk/jog and 40 minutes of 1:3 walk/jog, etc., as the child gets in better shape.
2. Anaerobic Conditioning
1 x 100-yard high-knees
1 x 100-yard back-kicks
2 x 100-yard dash intervals
4 x 50-yard dash intervals
4 x 50-yard karaoke intervals
4 x 50-yard backwards running intervals
4 x 50-yard power skipping intervals (with a 50-yard walk recovery between intervals)
3. Muscle Strength and Endurance
3 x 40-count bent-knee sit-ups with arms folded across chest
3 x 30-second back stretches
3 x 15-count pushups emphasizing good form
Strength work can generally remain at three sets per exercise and progress to more repetitions per set; sit-ups can progress to 50 and more and push-ups can progress to 15 and more. Most workout time is generally spent on endurance work because a major goal is often to lose weight.
The sprinting and strength workouts can be adapted to sports-specific training needs at appropriate times of the year for a child's chosen sport. These sports can include team sports such as basketball, volleyball, or soccer.
Working with a Personal Trainer Is Helpful in Many Ways
A qualified personal trainer who can create a safe and effective workout for specific needs, set appropriate goals, offer support, and share effective feedback can greatly assist a client in reaching weekly goals or monthly goals. For instance, that personal trainer can use his or her knowledge to help clients:
Improve their fitness level for recreational and competitive sports
Change lifestyle habits that have been problematic in the past
Enhance personal stress management
Avoid possible medical problems later in life due to improved fitness and loss of weight
The rate of progression after hiring a personal trainer depends on the client's personal motivation level and often the time of day. For example, a high ambient temperature and humidity can substantially limit outdoor workouts.
Remember That a Certified Personal Trainer Is Not a Doctor or Physical Therapist
While it is important to understand what fitness program a personal trainer is qualified to implement with clients, it is equally important to know the limitations of that personal trainer. Despite the numerous fitness certifications now available, a personal trainer is not qualified to formally diagnose or directly treat specific medical conditions such as asthma or diabetes.
Personal trainers may offer general guidance based on their medical knowledge. However, ongoing consultations with a qualified medical and/or mental healthcare professional is needed for specific therapy programs with specific goals, such as returning to a sport after a concussion or overcoming an eating disorder.
Personal trainers cannot advertise their services to "cure obesity" as this claim implies they are attempting to "manage care" without a medical license. However, personal trainers are very qualified to use their knowledge to develop exercise programs that will enhance the lifestyle behaviors that contribute to decreased levels of obesity, reducing the changes of potential regaining of weight down the road. With this approach, a personal trainer is not attempting to manage a condition such as diabetes but is focusing on a holistic approach to enhance good habits in clients.
---
About the Authors
Mark E. Jones, M.S., ACSM-EP, TSAC-F, earned both his bachelor of science and master of science in sports and health sciences from American Public University. Though his master's, he maintained a 4.0 GPA and graduated with distinction. His capstone project, "Tactical Athletes Body Composition & Performance Effects while Training in a Fasted State" is available online and was written under the guidance of Dr. Daniel Graetzer. Mark is in his final didactic year of his Ph.D. in exercise science at Concordia University of Chicago, where he is focusing on applied nutrition and men's hormone health.
Mark is the Supervisory Health Educator for the Fort Bragg Army Wellness Center and an adjunct instructor at Maryville University of Saint Louis. Mark serves in two volunteer roles. He is on the University's Industry Advisory Council for Sports and Health Sciences and also serves as a member of the American College of Sports Medicine Committee on Certification and Registry Boards for Exercise Physiologists.
Daniel G. Graetzer, Ph.D., received his B.S. from Colorado State University/Fort Collins, a M.A. from the University of North Carolina/Chapel Hill and a Ph.D. from the University of Utah/Salt Lake City. He has been a faculty member in the School of Health Sciences, Department of Sports and Health Sciences, since 2015. As a regular columnist in social media blogs, encyclopedias, and popular magazines, Dr. Graetzer greatly enjoys helping bridge communication gaps between recent breakthroughs in practical application of developing scientific theories and societal well-being.
NASM is a registered trademark of Assessment Technologies Institute, LLC.
ACSM is a registered trademark of American College of Sports Medicine, Inc.
NSCA is a registered trademark of National Strength and Conditioning Association.
Next Steps
Courses Start Monthly
Next Courses Start Jan 1
Register by Dec 29