By Dr. Robert Gordon, CPC
Faculty Member, Reverse Logistics Management and Government Contracting and Acquisition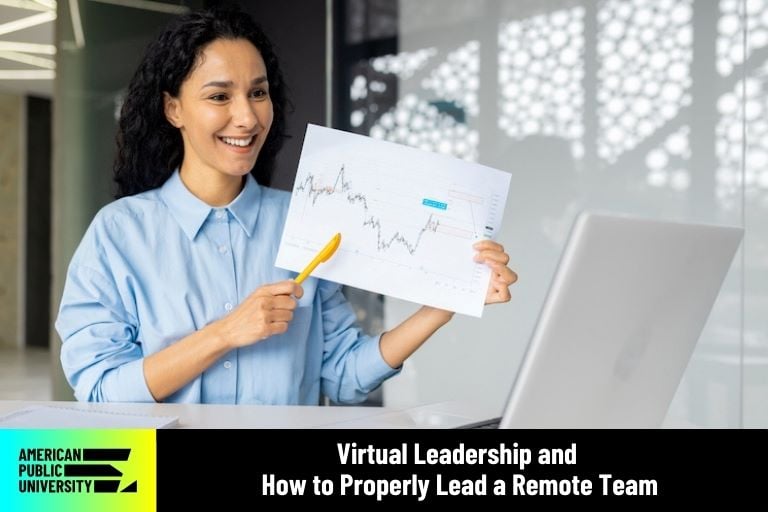 Dispersed projects and virtual teams have become more common, so that effective virtual leadership has become a necessary skill for managers to learn. Often, remote teams span many different locations around the U.S. or even exist in different countries in some cases. These virtual teams must rely more upon technology as a primary means of communication.
Why Is Virtual Leadership Important to Organizations?
If virtual teams are not properly handled, there is the potential for conflict and virtual leadership failure. Today's COVID world has caused many people to alter their leadership styles, and virtual leaders must be careful of common pitfalls that can befall most virtual teams, including:
Communication issues due to the lack of visual cues

Difficulties in building trust with each team member

Leading geographically distant teams whose members now often balance their personal lives with their business responsibilities - typically under the same roof
Virtual leadership focuses heavily on leading and managing individual workers or teams in a remote working environment, using communication technology. To help lead employees and foster effective team communication, a virtual leader can utilize various communication platform collaboration tools to help lead employees, such as:
Video conference calls

Email

Instant messaging
However, there can sometimes be issues with flexibility with a virtual workforce, as opposed to in-house teams. For instance, scheduling a video call for virtual team members in different time zones requires careful research to find a meeting time that works for everyone.
Virtual leaders must typically possess strong communication skills and rely heavily on written and verbal communication to convey their vision, expectations, and instructions to virtual employees. They must be adept at building relationships and establishing trust with team members who may never meet in a traditional office space.
Virtual leaders must also be skilled at managing remote teams, fostering engagement and collaboration, encouraging employees, and maintaining employee motivation.
How Is Virtual Leadership Different than In-Person Leadership?
Virtual leadership and in-person leadership differ in several critical aspects, due to each environment's unique challenges and dynamics. However, it should be noted that remote employees have demonstrated increased productivity when they are in a remote work environment as opposed to a conventional office environment.
For instance, Apollo Technical noted that employees working from home are 47% more productive, compared to workers in a typical office setting. One Stanford study also found that team members who worked remotely were happier, and attrition rates dropped 50% in some cases.
Delivering negative feedback (virtually) is often a challenge - in a virtual meeting, a participant can stop sharing their video; of course, in an in-person meeting that scenario is impossible.
10 Tips to Help Improve Your Virtual Leadership Skills
There are different virtual leadership strategies to help improve your skills. While you might use some of these tips more than others, I recommend that you try to use all of them as a virtual leader.
Using some tips will be easier than trying others. But just making an effort with your entire team will show that you appreciate and respect them, and that will help to encourage team members participating in remote working to contribute a project's success.
Tip #1: Use Regular Communication to Maintain a Human Connection
In traditional leadership roles, leaders have the advantage of direct and immediate communication through non-verbal cues such as body language, facial expressions, and tone of voice.
By contrast, virtual leadership relies primarily on written and verbal communication through digital platforms, which requires clear and concise articulation of ideas.
In-person leadership allows for more personal interactions and opportunities for relationship building through casual conversations, shared experiences, and non-verbal cues.
Virtual leadership, however, requires intentional efforts to build relationships and create employee engagement, often through scheduled virtual meetings, team-building activities, and regular communication.
Furthermore, effective virtual leadership means that you should ensure that you are available for virtual meetings, emails, phone calls, or chat sessions. Schedule regular check-ins and one-onone meetings with team members to encourage communication and team building.
Tip #2: Build Trust
Trust can be established more easily in face-to-face interactions, because employees and leaders can observe each other's behavior and more easily gauge an individual's reliability and credibility. Due to limited face-to-face contact in a virtual environment, trust building can be more challenging in virtual leadership.
Virtual leaders who are leading remote teams must proactively foster trust among team members by demonstrating integrity, consistency, and open communication.
Leaders need to ensure that they behave ethically and credibly to ensure that their team members trust them. Inappropriate behavior by team leaders will have a severe impact on the entire team.
Employees are always watching their leaders to determine how they should behave. If a leader behaves incongruously, that will impact how much employees will trust that leader.
I learned a valuable lesson about trust and participative leaders and leadership while teaching at Disney™ University. I was a facilitator with my partner, teaching a long class. There was a lunch break, and we had advised everyone to return to our classroom at a specific time.
As the break ended, I thought collecting everyone would be a good idea as people had dispersed all over the large cafeteria. My partner said "Not necessary!" and got up to walk back to the classroom. Everyone filed in after us, proving that everyone was watching what we were doing to determine how they should behave.
Virtual leadership should be about having people behave as you would behave. Good virtual leadership is about having people follow your lead, even if they cannot see you directly or if you cannot see them directly.
Tip #3: Overcome the Challenges Posed by Distance and Time Zones
Virtual leadership often involves managing virtual teams scattered across different geographic locations and time zones.
Leadership over different time zones requires leaders to be flexible and accommodating. They must consider the challenges of coordinating meetings, accommodating various working hours, and ensuring effective communication across different time zones.
If you have a team in different time zones, it is best to sometimes move meetings around to avoid inconveniencing some people all the time. Once, I led a team in Singapore when I was based in the U.S.
To accommodate my virtual workers, I set meeting times in the mornings or evenings so that some people would not always have to meet early in the morning or the middle of the evening.
This simple consideration showed my virtual team members that everyone's needs were respected and valued.
Tip #4: Take Advantage of Technology
Virtual leadership heavily relies on technology tools and platforms for communication, collaboration, and project management. Virtual leaders must be proficient in using these tools and troubleshooting technical problems to ensure smooth operations and effective team collaboration.
Ideally, virtual leaders should utilize the right communication platform and various technologies such as video conferencing, instant messaging, or collaboration tools to engage a virtual team.
Similarly, project management software can keep everyone on the same page and provide a way to track progress. In addition, everyone on a virtual team should be trained in the use of technology tools and platforms.
Tip #5: Offer Flexibility and Autonomy
Virtual teams often provide more flexibility and autonomy to team members, allowing them to work at their own pace and manage their time effectively. Virtual leaders must trust their virtual teams to deliver results, even if they are not in the same physical location.
Also, remote leaders should balance providing guidance and support as needed while allowing for a certain level of employee independence.
Tip #6: Resolve Conflicts Quickly
In a traditional office setting, leaders can easily gauge team dynamics, address conflicts, and foster collaboration through immediate observation of in-person teams.
To create a more effective virtual team, leaders must be more proactive in fostering engagement, encouraging participation, and resolving conflicts using virtual communication channels and team collaboration tools.
Rapid conflict resolution is critical in the virtual environment because a problem will not disappear with time. Team disagreements between one team member and another tie up project managers for countless hours, making them less effective and giving them less time to manage a project.
Furthermore, the Center for Creative Leadership notes that conflict at work – including ineffective management of interpersonal situations, conflict avoidance, and lost productivity – is very costly for an organization. Consequently, a virtual leader must be well-versed in strategies to manage destructive conflict and foster collaboration.
Tip #7: Address Isolation Issues
Isolation issues can often occur in virtual teams. Typically, remote teams lack social, face-to-face interaction, which transpires around the water cooler in traditional companies.
This social communication might be positive – such as passing on vital organizational information about the activities of others – or negative – such as spreading organizational rumors.
Both types of communication, however, are necessary to a team because they promote a sense of connectivity to an organization.
To avoid such isolation among virtual teams performing remote work, team leaders must harness
technology and encourage regular contact to keep each team member in the loop.
Project managers need to communicate and create relationships based on trust. Virtual leaders who do not remain in regular contact with their teams have the potential to lose the trust and effectiveness of their team members.
Tip #8: Create Realistic Expectations and Clear Feedback
When leading virtual teams, leaders should express clear expectations to a remote team during a virtual meeting. Establishing definite, measurable goals, timelines, and objectives will help to ensure everyone is on the same page.
Also, virtual team leaders should ensure that everyone understands the interdependencies and ramifications if work starts to slip during remote working.
Furthermore, providing clear feedback helps a whole team to understand what they have done and how it matters. Feedback is essential for all team members to help them improve and grow professionally.
Be sure to regularly provide constructive feedback through detailed messages to help team members succeed in their remote work.
Tip #9: Be Transparent about What Is Happening Within a Company
Being transparent about company goals, performance metrics, and financials builds trust with virtual teams. Keep people informed regularly; if team members see that they are getting information in a timely manner, it shows appreciation and respect.
It also helps a team to align its work with the company's objectives. I once worked on a team where an email was sent to the project manager and was complimentary of the project's progress.
However, the email was forwarded to the rest of our team a week after it was sent to the project manager. It made me about how much our management prioritized the feedback and our team.
Tip #10: Lead By Example
Virtual leaders must set a positive example for virtual teams and model the precise behavior they want to see from their team members, even if those team members are remote. Displaying credibility through actions helps to create a successful virtual leader. Those leaders who do not act in a credible manner – on-screen or off-screen – can be seen by employees to have less meaning.
Effective Virtual Leadership Requires the Use of Adaptation and Strategies
While there are distinct differences between virtual leadership and in-person leadership style, effective leaders should adapt their leadership styles and strategies to motivate employees working in both in-office and virtual environments.
In today's ever-changing professional landscape, "transformational leaders" need to leverage their strengths and overcome the challenges of each type of environment to achieve team success and meet organizational goals.
American Public University's Online Master's Degree in Business Administration (MBA)
American Public University offers an online Master's Degree in Business Administration (MBA) designed to help provide students with a comprehensive understanding of the contemporary business landscape. Its rigorous curriculum encourages critical thinking, managerial decision-making, and strategic planning skills.
Comprehensive Curriculum
The MBA program at American Public University covers essential topics across a broad business spectrum. It emphasizes strategic leadership, quantitative and qualitative decision-making skills, and the holistic analysis of business functions.
The curriculum consists of core courses in finance, marketing, human resource management, and international business.
Additionally, students can select from several concentrations, including marketing, analytics, global business management, and healthcare administration, allowing for a specialized focus based on individual interests and aspirations.
Flexible and Asynchronous Online Learning
American Public University's MBA program is designed to accommodate the complex schedules of today's busy professionals. The university employs a flexible, asynchronous online class schedule that enables students to complete coursework at their own pace.
This innovative structure ensures that students can access their coursework from anywhere in the world, at any time of day, enabling them to effectively balance their studies with personal and professional commitments.
Expert Faculty with Real-World Experience
One of the unique features of American Public University's MBA program is the expert faculty. Many of these educators have considerable real-world experience in the fields they teach, providing students with invaluable insights and practical perspectives.
Their experience spans various business sectors, and they utilize these backgrounds to create a
dynamic learning environment. They provide mentorship and guidance, enriching the learning experience with their industry knowledge and practical expertise.
In summary, American Public University's online MBA program offers a broad curriculum, a flexible online learning environment, and the unique benefit of faculty members with extensive field experience. This approach ensures a comprehensive and applicable learning experience in the field of business administration. Other degree programs offered at American Public University include Intelligence Studies, Homeland Security and Legal Studies.
---
About the Author
Dr. Robert Gordon, CPC, is a faculty member of the Reverse Logistics Management and Government Contracting and Acquisition programs at the University. He holds a bachelor's degree in history from the University of California, Los Angeles; a master's degree in business administration from the University of Phoenix; and a doctoral degree in management from the University of Phoenix. Dr. Gordon also holds graduate certificates in information technology project management, information technology security and logistics management from American Public University
Next Steps
Courses Start Monthly
Next Courses Start Jan 1
Register by Dec 29