By Dr. Robert Gordon, CPC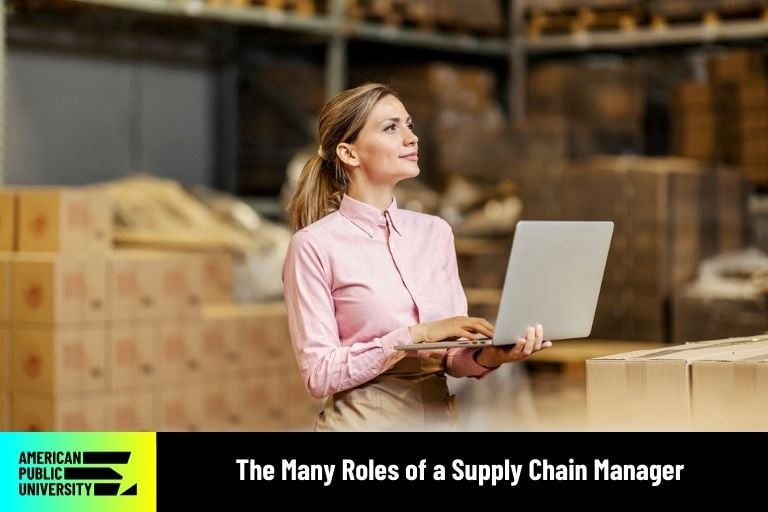 Supply Chain Management: The Basics
Learning how to become a supply chain manager involves knowing different areas of the industry. For instance, many supply chain managers are involved with procurement, acquisition, logistics, strategy, communications, problem solving, data analytics, and leadership.
A supply chain manager - and anyone hoping for a possible supply chain career - must have all the technical skills needed to meet various challenges - because the supply chain process is typically variable - depending on the organization or company.
Specialized Skills
Taking raw materials from their origin point - and moving them along the chain to their consumption point - is a complex field. Every aspect within supply chain management typically requires people to develop a set of specialized skills.
For supply chain management professionals, several key skills are essential for an individual hoping to become a supply chain analyst or manager.
Knowledge of Supply Chains and Supply Chain Logistics
The most critical skill when learning how to become a supply chain manager is direct knowledge of the supply chain management field. It is necessary to understand fundamental supply chain principles, including:
Demand planning
Business administration
Business processes and business growth
Quality control
Procurement
Supply chain logistics
Inventory management
Distribution
Knowledge of the field also includes knowing industry best practices and optimization of the end-to-end supply chain. To become a supply chain professional, just like any other position, a key goal is to gain a few years' experience in your chosen field.
Strategic Thinking And Supply Chains
Job descriptions within the field vary, but strategic thinking and developing long-term plans for the organizational supply chain are typically helpful for long-term cost control.
Strategic thinking includes analyzing market trends, identifying opportunities for improvement, and aligning the supply chain with overall business objectives.
In addition, an aspiring supply chain manager should focus on gaining proficiency in data analysis and using supply chain data analytics tools to gather and interpret information. This skill involves identifying patterns, making data-driven decisions, and optimizing processes based on quantitative insights.
Communication and Collaboration
A supply chain manager requires excellent communication skills to effectively interact with various stakeholders - including suppliers, manufacturers, distributors, and internal teams. Also, it's usually necessary to use collaboration skills such as building solid relationships, negotiating contracts, and resolving conflicts.
Managers typically collaborate closely with internal teams, such as sales, marketing, operations, and finance. They will also collaborate with external stakeholders, including suppliers, customers, and logistics providers. Consequently, effective communication and collaboration are vital for aligning goals, resolving issues, and maintaining solid relationships.
Problem-Solving
Supply chain manager jobs typically require strong problem-solving skills to address challenges in order to help overcome obstacles that arise. Every day will be different in the field because there are so many ways for things to get off track.
For an aspiring supply chain manager, this problem-solving includes identifying the root causes of problems, developing creative solutions, and implementing effective problem-solving methods. A supply chain manager will also need to understand international trade regulations, cultural differences, and logistics challenges in a global supply chain.
What Is the Typical Role of Supply Chain Managers?
In an organization, the role of a supply chain manager is crucial for ensuring the smooth and efficient flow of goods, services, and information throughout the supply chain.
Supply chain managers play a vital role in developing and executing strategic plans and operations management. They align the supply chain strategy with overall business objectives, identify areas for improvement, and optimize processes to enhance supply chain professional efficiency and effectiveness.
Supply chain managers collaborate with sales, marketing, and production teams to forecast demand, anticipate customer needs, and develop accurate demand plans. Demand planning involves analyzing historical data, market trends, and customer feedback to determine appropriate inventory levels and production schedules.
Supply Chain Management and Procurement
A supply chain manager is typically responsible for selecting and managing the suppliers for an organization. They establish strong relationships with key suppliers, negotiate contracts, monitor supplier performance, and ensure the timely delivery of high-quality goods and services.
Supply chain managers oversee the procurement process, which involves sourcing and purchasing raw materials, components, and finished goods. They act as procurement specialists in order to evaluate potential suppliers, negotiate prices and terms, manage contracts, and maintain inventory levels to meet demand while minimizing costs.
Supply chain managers coordinate the movement of goods from suppliers to customers. They optimize transportation routes, select logistics providers, manage warehousing and distribution centers, and track shipments to ensure on-time delivery and to reduce costs.
Supply chain managers are responsible for managing inventory levels throughout the supply chain. They implement inventory control methods, such as just-in-time (JIT) or vendor-managed inventory (VMI).
Key Performance Indicators
These inventory control methods enable a supply chain manager to optimize inventory turnover, reduce carrying costs, and avoid stock-outs or overstock situations. To assess the performance of the supply chain, a supply chain manager monitors key performance indicators (KPIs).
Risk Mitigation
Risk management involves identifying and mitigating risks within the supply chain, such as disruptions, delays, and quality issues. During a workday, a supply chain manager may need to develop contingency plans, implement risk mitigation strategies, and monitor key performance indicators (KPIs) to manage risks proactively and help to ensure customer satisfaction. That way, the impact of disruptions on operations and customer service is minimized.
How to Develop Supply Chain Management Skills
Developing supply chain management skills requires a combination of education, practical experience, and continuous learning. Here are some steps you can take to help enhance your skills and potentially gain experience.
If you aspire to become a supply chain manager, consider pursuing a degree or certification program in supply chain management, logistics, reverse logistics, government contracting, or management. These programs provide fundamental knowledge and will help you understand the field's core concepts, principles, and best practices.
Obtaining a degree demonstrates your knowledge and commitment to a field, while earning a certificate can show proficiency in a particular area. A certified professional logistician or an individual with other professional certifications might pique hiring managers' attention - depending on the organization.
Learn Supply Chain Field Management Software
As you're learning how to become a supply chain manager, a knowledge of supply chain management software will be useful for day-to-day tasks.
This software includes enterprise resource planning (ERP) systems, transportation management systems (TMS), and warehouse management systems (WMS).
Utilizing this software will help you understand their capabilities and how they can improve supply chain operations. Being familiar with several systems shows that you are interested in learning and can adapt to several different programs.
Embrace Continuous Learning
Supply chain management is a rapidly evolving field, so stay curious and embrace a mindset of continuous learning. Seek new information and explore emerging trends and technologies as they become available. Also, continuously seek opportunities to expand your knowledge and gain experience and skills.
Remember that developing supply chain management skills is an ongoing process. It takes time and experience to master the intricacies of supply chain operations.
Focus on building a strong foundation of knowledge, gaining practical experience, and staying up to date with supply chain management industry developments to become well-rounded in supply chain management skills.
Supply Chain Professionals Take Differing Paths
For anyone considering a supply chain management career, the typical path of a supply chain manager can vary, depending on different factors such as industry, organization size, and individual aspirations. Obviously, a supply chain analyst will have different duties than someone in a leadership position.
Moreover, one supply chain manager might focus on the business administration side of an organization while another may be more interested in supply management, raw materials or even working with the company's systems engineering team or other departments. Supply chain manager jobs - and each individual's career path - will vary.
Entry-Level Positions
Obviously, many people begin their supply chain management careers in an entry-level position, usually as a supply chain analysts. Other roles include logistics coordinator, procurement assistant, inventory analyst, supply chain coordinator, assistant, or expediter. At this level, customer service skills are typically beneficial, too.
Specialist Roles
Some more specialized roles might include demand planning, procurement, transportation, or warehousing. In these roles, one can sometimes develop deep expertise in a particular area - which may help to improve the supply chain processes. Job titles vary but typical specialist positions include buyer, purchasing agent, or supply chain logistics specialist.
Supply Chain Managers and Beyond
Most supply chain managers work to uphold some of the broader aspects of the supply chain. They often manage teams and make strategic decisions to help optimize a supply chain's efficiency and effectiveness. Supply chain managers' work typically involves responsibilities for multiple functional areas or even the entire supply chain operations. The roles include supply chain managers, industrial production managers, procurement managers, purchasing managers, or logistics managers. A transportation manager is another example.
As a new supply chain manager gains more experience and demonstrates strong leadership skills and strategic capabilities, they may progress to leadership roles such as a director or head of supply chain. In larger companies, some may even move into executive positions.
Continuous learning, developing soft skills and technical skills, attaining a professional certification, and staying updated with industry trends and technologies is often useful for all supply chain managers and other supply chain professionals.
American Public University's Bachelor's Degree in Supply Chain Management
American Public University (APU) offers a comprehensive Bachelor's Degree in Supply Chain Management which helps prepare students with the knowledge and skills typically needed in this dynamic field. The program - like all of APU's bachelor's programs and other degrees - is provided online and provides a strong foundation in supply chain operations, logistics, procurement, and transportation management.
Flexible and Asynchronous Class Schedule
Understanding the busy schedules of many students, APU offers a flexible, asynchronous class schedule for it's Bachelor's Degree in Supply Chain Management that allows students to learn at their own pace and on their own time. This means students can access course materials, participate in discussions, and complete assignments around their personal and professional commitments.
Expert Faculty with Real-world Experience
One of the strengths of the program lies in its expert faculty. Many of the faculty members have real-world experience in the field they teach, bringing valuable insights and practical knowledge into the virtual classroom.
American Public University also offers a Master's Degree in Supply Chain Management. This graduate-level program dives deeper into more advanced aspects of the field.
---
About the Author
Dr. Robert Gordon, CPC, is a faculty member of the Reverse Logistics Management and Government Contracting and Acquisition programs at the University. He holds a bachelor's degree in history from the University of California, Los Angeles; a master's degree in business administration from the University of Phoenix; and a doctoral degree in management from the University of Phoenix. Dr. Gordon also holds graduate certificates in information technology project management, information technology security and logistics management from American Public University.
Next Steps
Courses Start Monthly
Next Courses Start Jan 1
Register by Dec 29