By Dr. Alison Becker
Department Chair, Legal Studies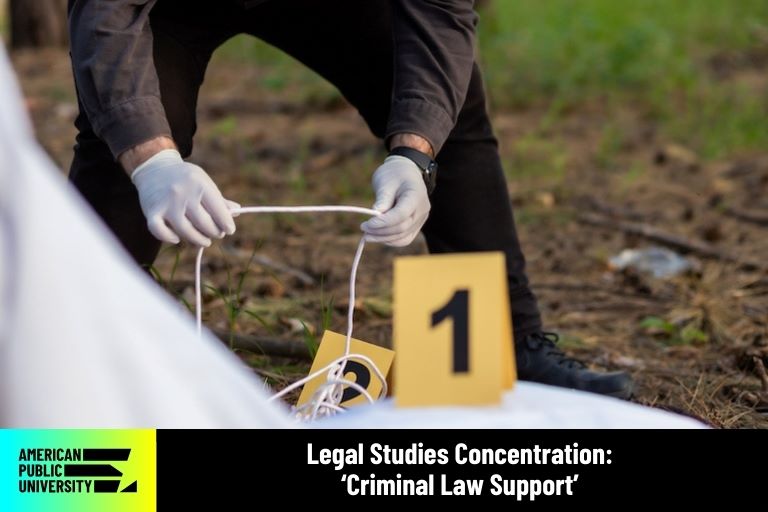 Throughout history, criminal law has evolved into a high-pressure realm within the broader legal community.
The role of criminal attorneys in today's environment is indispensable, often characterized by a fast-paced tempo and a high-stress atmosphere from the discovery procedure right through to appearing in court.
Paralegals and Criminal Legal Cases
To assist criminal attorneys, paralegals are often tasked with tasked with helping with key aspects of a criminal legal case.
These paralegals are typically responsible for a wide array of duties, from conducting research and organizing court documents to liaising with clients and drafting legal documents.
Their understanding of criminal law, therefore, is not just desirable, but absolutely essential.
To aid our students, American Public University has added a legal studies concentration of Criminal Law Support to its online bachelor's online bachelor's degree in legal studies in legal studies program1.
Expanding the Curriculum of Our Legal Studies Concentration
A key element of the legal studies program is, of course, the incorporation of additional classes into the Criminal Law Support legal studies concentration, with courses aimed at deepening the understanding of criminal law support for our students.
We've integrated selected courses from our online bachelor's degree in criminal justice into the Criminal Law Support concentration, effectively expanding the scope of the degree program.
Approved Courses in the Concentration
Our legal studies concentration in Criminal Law Support now includes a course on "Evidence and Procedures," a subject that offers students an insightful introduction to the methods often utilized by law enforcement in the search, collection and handling of evidentiary items in criminal investigations.
In addition, the interrelationship between law enforcement and law becomes clearer, providing students with a broader context of the legal system. Here are six courses in this new legal studies concentration:
Criminal Justice Administration
Litigation
Criminal Law and Procedure for the Paralegal
Administrative Law and Policy
Criminal Law
Legal Technology: eDiscovery
Each course within the legal studies degree program is comprised of three semester hours.
Our legal studies courses will also help to expand a student's knowledge of what it typically required in building criminal law cases.
Students Can Access an Academic Advisor
The University is proud of its history of providing assistance to students throughout their academic journey.
Students will have access to consult an approved academic advisor who will offer guidance and assistance, help map out their courses, determine the best learning strategy, and provide risk assessment for each student's unique journey.
The advisor will also help students navigate through approved courses, ensuring they meet the necessary academic standards.
The new concentration in our legal studies degree is an opportunity for students to dive deeper into their legal studies, explore various aspects of criminal law, and make informed decisions.
---
1. Practice of law is defined by state bar associations. Students must check with their respective state bar associations and/or other organizations to determine eligibility and to learn more about attorney and non-lawyer legal professional licensing requirements including law school requirements.
---
About the Author
Dr. Alison Becker has practiced governmental law for more than 25 years as well as provided various kinds of legal instruction and training. She earned a B.A. and a J.D. from Northern Kentucky University prior to earning an Ed. D. from Northcentral University, with special emphasis on legal e-learning.
Next Steps
Courses Start Monthly
Next Courses Start Jan 1
Register by Dec 29