By Amanda Wilson and Armando Guerrero | 10/19/2021
Cybersecurity is a field that is quickly growing in the United States and around the globe. The U.S. Bureau of Labor Statistics estimates that information security is anticipated to grow 33% from 2020 to 2030, which is much faster than the average for all occupations.
Cyberattacks from both internal and external sources cause damage to businesses regularly, and they constantly appear in news headlines. As a result, experts in cybersecurity are vital to the creation and execution of strategies to reduce cyber threats.
Alumnus Armando Guerrero credits his 15 years of "boots on the ground" work and his education to his achievements in this complex field. Armando is currently a cybersecurity professional, lifelong learner and community leader.
He says, "Cybersecurity is a deep ecosystem, and what my professional experiences and education did for me was to help me think holistically about my work, seeing the bigger picture enough to understand all the moving parts of security in the cyber realm."
Armando graduated with a bachelor's degree in information systems security/cybersecurity in 2016, quickly followed by a 2017 master's degree in cybersecurity studies. He chose American Public University because of its flexibility and the degree programs that were well suited for his needs. Armando notes, "APU granted me the ability to attend school, focus on my work and still take care of my family!"
Entering the Cybersecurity Field
Armando began his professional journey in the U.S. Navy as an electronics technician, working on radio sets and radar systems. This was his first introduction to cybersecurity, and it included a great amount of technical learning and legwork.
This work pushed him to think more about his future and what to do to take the next steps forward. Armando credits the military for pointing him in the right direction.
Armando's start came from an opportunity to administer computer systems and conduct administrative functions on various platforms while working at Ultra Electronics Advanced Tactical Systems in Austin, Texas. After seven years of service, Armando transferred to Alabama to continue his work with systems administration and decided to pursue higher education to build upon his experience. Later, he worked as a system security officer and then an information system security manager.
Today, Armando is a senior cybersecurity systems engineer for a federal agency. His agency is a part of the National Defense Cybersecurity Alliance, and Armando's work involves conducting cybersecurity system engineering for a network that allows information sharing, threat hunting, and intelligence sharing. Armando credits most of his success to his ability to be thorough.
Armando notes that not all cyber-threats are ill-intentioned or nefarious; sometimes the threats come from simple mistakes or people getting too relaxed in their work. His biggest career wins have come from staying vigilant, paying attention to details, and studying the ins and outs of computer systems.
He says, "Being prepared and skilled is what will help to protect the defense industry from cyber threats. It will also lead to satisfaction and most importantly, guide your moral compass in other areas of life!"
Armando notes that he is part of an incredible team who works with external partners every day to hunt for threats—both internally and externally.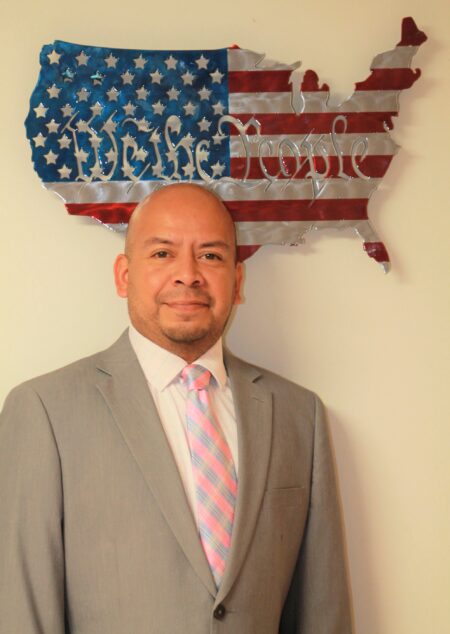 Being prepared and skilled is what will help to protect the defense industry from cyber threats. It will also lead to satisfaction and most importantly, guide your moral compass in other areas of life!
Giving Back to the Cybersecurity Community and the University
Armando also currently serves as the chapter secretary for the Huntsville, Alabama, chapter of the Information Systems Audit and Control Association (ISACA). ISACA is an independent, nonprofit organization working to develop industry-leading knowledge and best practices around information systems. Armando's work with the association contributes to the community's cybersecurity education and helps to create the next generation of cybersecurity leaders through early outreach.
As an alumnus of American Public University, Armando stays engaged with other students through the University Directory, offering his time and energy to mentor his peers. His advice for them is that it's okay to be discouraged every now and then, but it is also helpful to take a step back and look at the progress through your academic program from the outside in.
He credits collaboration with others with making great ideas come to life. Armando observes, "There's not a single idea that is too naïve or far-fetched for one simple reason; if you thought of it, someone else is thinking it, too! To mitigate cyber threats, all ideas must come to the forefront and teams should be working together to come up with solutions."
---
About the Author
Amanda Wilson joined the University in 2008, after four years teaching and coaching in Jefferson County, West Virginia. Amanda serves as the Associate Vice President of Student and Alumni Affairs, developing and expanding co-curricular programming and engagement opportunities for students and alumni primarily at a distance.
Throughout her tenure, Amanda has developed the strategy and laid the groundwork for a variety of programs to include mentoring, student organizations, virtual communities, and campus leadership initiatives. Amanda is currently pursuing a Doctor of Business Administration (DBA) in Organizational Leadership from Walden University. She holds a master's degree in business from American Public University and a bachelor's degree in English from Radford University. Amanda is also a member of the Golden Key International Honour Society, the National Society of Collegiate Scholars, and a member and Chapter Advisor for the West Virginia Students' Alliance.
Next Steps
Courses Start Monthly
Next Courses Start Jan 1
Register by Dec 29