By Dr. Robert Gordon, CPC
Faculty Member, Reverse Logistics Management and Government Contracting and Acquisition
---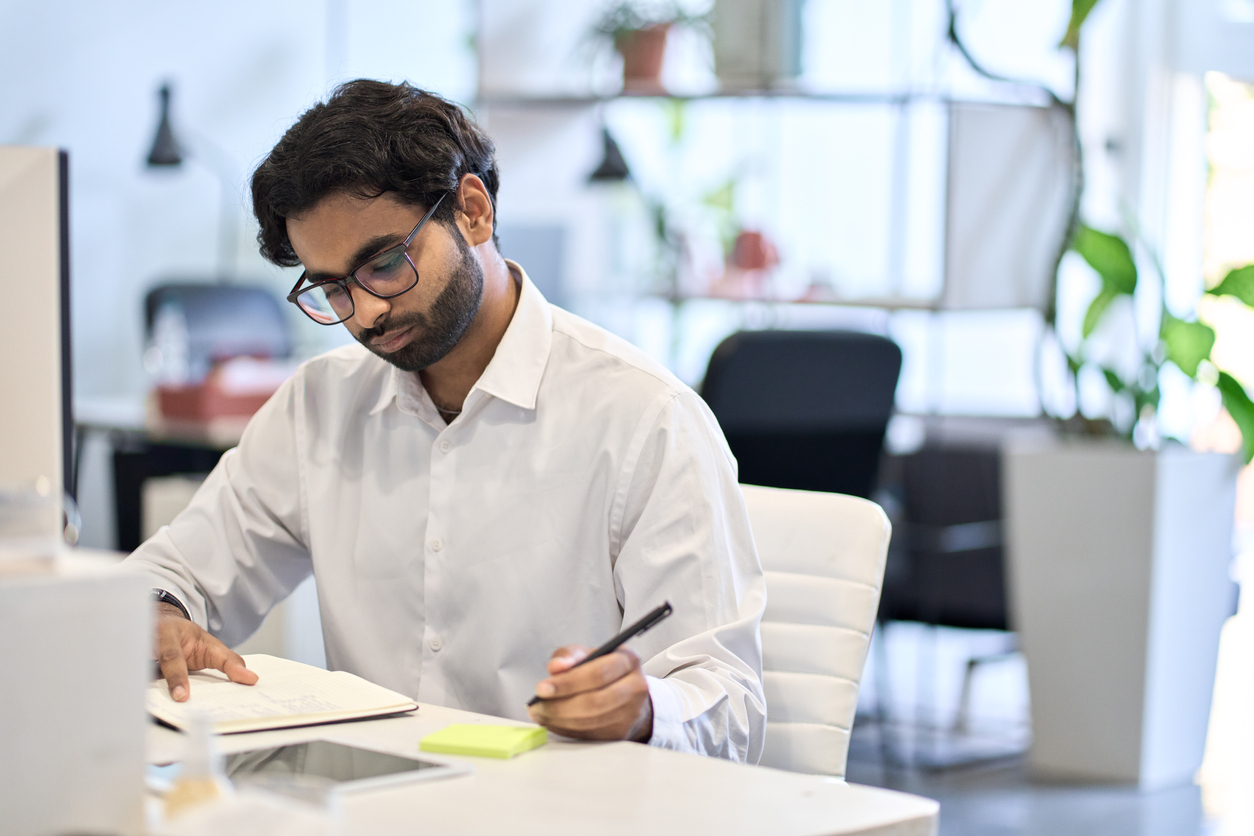 Writing an academic research paper can often feel overwhelming, especially for new college students. Academic writing often requires in depth research using credible sources, formal sentence structure, a works cited section, and sometimes a literature review and other academic requirements.
What are the best ways for students to approach writing academic research papers?
While writing a paper can be a time-consuming process, selecting a good thesis statement and employing the right research strategies may help students efficiently gather information, maximize their time, and produce a high-quality research paper.
Based on my experience, here are several tips to help with writing a high-quality research paper.
Understand the Assignment
The first step, before you conduct any research, is to review the assignment to make sure you thoroughly understand the requirements. If you have any questions about the assignment, contact your professor immediately for clarification. You do not want to start down the path of researching and writing only to discover you're headed in the wrong direction.
Next, identify the important components of the assignment. This task includes elements like paper length (number of pages or word count) and formatting requirements (font style and size, spacing, and margin dimensions).
Also, make sure you fully understand how to properly cite sources (don't lose points for mistakes in citation formatting!). Lastly, make sure you know the deadline date and the correct process for submitting your paper.
Armed with all this information, start planning how you're going to tackle this assignment. Time management is often a challenge for students, especially those who are just starting on their academic journey or for students who are trying to balance work and family life.
Use a calendar to estimate how long you're going to need to complete each of the steps (some steps may take a few hours) and be sure to build in some wiggle room in case something comes up that interferes with your plans. Giving yourself these mini-deadlines can help you make sure you're on schedule towards completing a high-quality research paper by the deadline.
Develop a Clear Research Question
The second task that you must complete before writing is to develop a clear research paper topic. Before starting your research, have a precisely defined idea of what topic you want to investigate.
Having a clear direction for your paper helps you focus your efforts and ensures you are gathering relevant information. It is best to write down your research topic as a question, such as:
"Is renewable energy important to the future of the environment?"
"What are some effective strategies for entrepreneurs?"
"What are important skills for people in a management role?"
Writing down your research question and reviewing it will help you with the next step, which is to develop a thesis statement. You may have multiple research questions, which can also be incorporated into your thesis statement.
Mold Your Research Question into a Strong Thesis Statement
The third task to do when you write a research paper is to translate your research question into a thesis statement.
A thesis statement is a topic sentence that presents the main point or argument of an essay or research paper. It is typically located at the end of the introduction paragraph and provides a clear, concise summary of your paper's main idea.
A strong thesis statement that summarizes your central idea guides the entire paper and helps your reader understand the purpose and direction of your research paper. Using a research question (or questions) as a starting point will help you develop a strong thesis statement, such as:
· "The use of renewable energy sources is necessary to combat climate change and reduce our dependence on fossil fuels."
· "The building of a strong team dedicated to the vision of the entrepreneur is essential for success."
· "Leadership is an important skill for anyone in a management role."
Use Peer-Reviewed, Academic Sources
Fourth, find and use peer-reviewed secondary sources as you conduct research and find answers to your questions. Unless you are going to do original research for a master's or doctoral thesis, most academic papers use secondary sources from other researchers. Secondary sources are interpretations and analyses of primary research sources, such as books, articles, and documentaries.
Make sure to document all of the sources that you use in a research paper. Keeping track of these sources will make your research easier. Collecting and tracking your sources during the research phase can also help when you're putting together bibliographical information for citing sources.
Academic papers require students to ensure their research sources are properly cited, typically in a reference section or bibliography page at the end of the paper. The citation format depends on the university's required citation style (such as American Psychology Association [APA], Modern Language Association [MLA], Chicago and so on).
In addition, many writing software programs have a references section that can maintain and organize your references and make citations easier. These programs can seamlessly change from one format to another without the need for you to re-enter your references to help ensure sources are properly cited.
Efficiently Use Databases And Search Engines
Fifth, utilize databases and search engines to conduct your research. Academic databases – such as ProQuest, located in the Richard G. Trefry Library at the University – can help you find relevant published articles and other documents for your paper.
For your preliminary research, the University also has many research tools, such as Research@APUS, that can serve as useful guides. Remember that there are videos and documents in the library to help you become better at conducting your own research, so regardless of which learning style you have, resources in the library can help you find what you need.
You can also use a search engine such as Google Scholar to supplement your research. Google Scholar is very helpful if you are researching a newer topic. This type of search engine might bring up fewer academic materials, but they are still research-based.
Remember to be specific in what you are looking for when you use a search engine or an academic database. Ideally, you should use academic databases whenever possible because those sources will likely be more credible and research-based.
Students should only use non-academic sites (like Wikipedia) for research during the beginning phases. For instance, these sites could be useful when you're seeking background information or wanting to understand the big picture about a broad topic. These sites are not scholarly (although they sometimes include academic resources in their citations) so they cannot be used in your research paper when citing your sources.
Keep Search Terms Specific and Narrow
Sixth, make sure to use specific, narrow search terms when you are searching for publications to use in your paper. Also, you can narrow your search results by using words such as "and" and "or" between two different words or put quotation marks around a search term. This way, a search engine or database is more likely to provide an exact match to the information you're seeking for your paper.
Narrowing your search terms helps you find the most relevant articles for your paper, rather than sifting through many articles because you used broad search terms that yielded too many results.
For example, if you do a search for management, you will likely get a ton of articles. However, if you search "business," "management" and "best practices" but not "project management," that will yield a much smaller number of articles that will be more focused on your paper's main topic.
Use an Outline or Mind Map to Organize Your Information
The seventh task before starting the writing process is to organize the information that you have decided to use. Once you have gathered your paper's information, organize it in a way that makes sense to you.
You may want to use an outline, a mind map or another tool to help you structure your paper. I also copy down key points or quotes that I want to use and keep track of where they came from, so that it is easy to use them when I'm writing a paper.
Writing Your Research Paper
At this stage, you've selected a particular topic, formed your thesis statements, conducted preliminary research from reliable sources, created a research paper outline. Now, it's time to start writing and create a first draft.
Following your research paper outline, use your topic sentence as a guide for body paragraphs. The writing process can differ, based on your own preferences. Some students group information together in specific sections – like a jigsaw puzzle – before they start the writing process.
Other researchers prefer to just start writing to get their own ideas on paper, and then go back to each section to add in relevant research and sources. The more research papers you write, the more comfortable you'll get with the writing process and the style of writing a scholarly academic research paper.
Editing, Reviewing, and Rewriting Your Research Paper
After you've completed a first draft, it's time to edit. Keep in mind that your first draft may need many revisions. Editing, reviewing, and rewriting are significant steps in writing a research paper, so be sure to give yourself enough time before the final draft is due.
When editing and reviewing your research paper, look for both broad, big picture issues as well as small details.
For example, make sure your main points are clear, there's a logical flow to the paper, and you've presented information in an interesting way. Also, make sure your sentences form strong body paragraphs (paragraphs aren't too long or too short). You want to make sure the reader (your professor!) has a clear understanding of the topic and that your paper comprehensively answers your research questions.
Also, make sure you're reviewing the details of your research paper. Check that your paper uses proper grammar and spelling, so that you don't lose points for grammatical errors or spelling mistakes. In addition, be sure to use your own words (and do not plagiarize from your sources!).
Lastly, review the requirements from the assignment sheet to make sure you've included all the necessary components. This work may include a literature review, page numbers, and the correct format for citations. Also, make sure that you're not using unnecessary words to try to increase the word count to meet the requirements of your research paper.
Writing a Research Paper Is Challenging, But a Strong Writing Process Can Help
Writing an academic research paper is always a challenge. But by following these tips on writing a research paper, you can typically produce your paper efficiently and effectively without wasting time on irrelevant information and sources. As a result, your final paper should be well organized to help present information in a logical sequence that conveys the in depth research and hard work you put into writing this research paper.
---
About the Author
Dr. Robert Gordon, CPC, is a faculty member of the Reverse Logistics Management and Government Contracting and Acquisition programs at the University. He holds a bachelor's degree in history from the University of California, Los Angeles; a master's degree in business administration from the University of Phoenix; and a doctoral degree in management from the University of Phoenix. Dr. Gordon also holds graduate certificates in information technology project management, information technology security and logistics management from American Public University.
Ready To Get Started?
Next Courses Start
Oct 2
Register by
Sep 29