By Dr. Robert Gordon, CPC
Faculty Member, Reverse Logistics Management and Government Contracting and Acquisition
---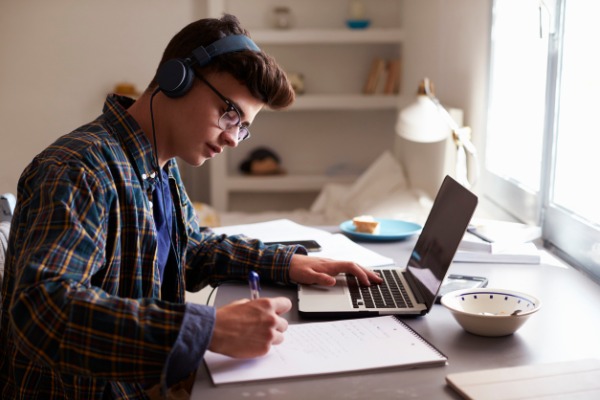 For many students, one of the most difficult parts of their academic journey is figuring out how to manage their time and stay focused. It isn't just a challenge for school students in modern education – many working professionals also struggle with successful time management!
Therefore, mastering time management skills as a student can not only benefit you during your academic pursuits, but also throughout your professional career. It's important for students to learn how to focus on homework so they're completing assignments on time and not rushing through the learning process.
Yet despite your best efforts and planning, there will likely come a time when you find yourself running out of time to complete homework assignments.
How to Focus on Homework When You're Almost Out of Time
Is your homework deadline fast approaching? Are you unsure how you're going to complete an assignment in time? If you find yourself in this situation, the first recommended action is to assess the remaining time before the homework is due.
Depending on how many hours you have before the deadline, you might still be able to focus on homework to complete it on time. I would recommend at least doing some work on your assignment to get it going.
If you decide to ask the instructor for an extension, there's no guarantee they'll grant it to you. If you don't receive an extension, you should try to submit something, even if it's incomplete. Any score is better than a zero or incomplete.
5 Steps to Help You Focus on Homework That's Due Soon
Here is some advice about how to complete homework when your time is limited.
Tip #1: Eliminate Distractions and Find a Creative Environment
Start by eliminating any distractions that might prevent you from being able to focus on homework. Turn off your phone or other media devices and do not visit distracting websites, like social media platforms or online gaming sites. These harmful distractions will only prevent you from being able to maintain your focus on homework.
Also, gather your study supplies and find a quiet study space where you can focus on homework without a lot of background noise. If you can't find a quiet place, consider playing white noise or calm music such as classical music from classical composers – whatever you prefer listening to that helps you maintain focus!
Such music or other calming sounds can help drown out loud conversations or other distractions. That elimination of distractions is particularly beneficial if you're working in public places like coffee shops or libraries.
As you prepare to focus for a long period of time, remember that you'll need to still take care of yourself and you likely won't be able to complete your homework in one sitting. The human brain needs sustenance and breaks, especially if you're staring at a computer screen for several hours.
Be sure to pack healthy snacks and a water bottle. If you start to feel tired, start to fall asleep, or find your mind wandering, take a short break to get fresh air and get your blood flowing. Eating healthy snacks can help keep you awake and allow your brain to focus on homework.
I recommend scheduling a break ahead of time so you have something to look forward to and maintain focus during allotted work times. Giving your brain and body a break periodically will help you feel awake and stay motivated in the long run so you can continue to focus on completing your homework.
Also, be sure to communicate your homework study plan to a family member or others around you. They are more likely to give you space and limit distractions if they know you are busy and need some quiet time to stay focused on getting your homework assignments done.
Tip #2: Divide a Homework Assignment into Manageable Tasks
Break your school assignment down into smaller tasks. Make a list of what needs to be done for that particular assignment, set priorities to focus on, and start at the top of your list.
Many times, a written project will require some library research. Preparing for a test might mean reviewing notes, flashcards, and course materials. A list of necessary tasks will help you stay organized, stay focused, and avoid feeling overwhelmed.
Tip #3: Seek Out Assistance
When it comes to homework, you don't have to go it alone. Many universities provide online resources to help out. Online libraries may provide resource material or special learning tools that can help you expedite your research efforts and help you through the educational process.
Perhaps you can find a study buddy from your class to help you do your homework quicker or share study notes. Meeting in a group study room, for example, may help you stay accountable, minimize distractions, and, ultimately, stay focused on completing your schoolwork.
Most universities also provide tutoring services. Reaching out to a tutor assumes you have at least a day or two before turning in your assignment, so if you've got limited time it will likely be hard to schedule time with a tutor. However, if your instructor approves an extension for the assignment, working with a tutor can be an excellent part of your plan to complete your homework.
Leveraging these school resources and support can help you understand your assigned material better, maintain focus, and often complete work faster.
Tip #4: If You Are Granted an Extended Deadline, Stick with It
If your instructor agrees to extend your deadline and submit work late, adhere to that deadline. Set time aside to complete all the tasks for that one assignment and hold yourself accountable.
If you run behind on one task, you must work even harder to stay on track. Keeping to a task list, establishing a study routine, and having progressive deadlines will help you maintain focus and stay motivated.
Tip #5: Review and Edit Your Work Thoroughly
Be sure to carefully proofread and edit any written school assignments, especially if you're running late. Checking over your work before submitting it makes you more likely to catch any errors or mistakes.
Many times, the best way to find errors is to read your paper aloud. Once you hear what you've written, your mistakes will be evident.
In addition, consider using a tool like Grammarly to help edit your work. You can also have have someone else read the paper and offer comments. If there is enough time, a tutor can also be used to edit your class assignments.
Uh-Oh, Homework Is Due Soon: How to Ask for an Extension
If a homework assignment is due in mere hours, contact your instructor immediately to explain your situation and request more time.
But before you email, text, or call your instructor, take some time to do research and make a reasonable proposal. You should review your class syllabus or course materials regarding class assignment deadlines and late penalties.
Some universities have a policy not to accept homework turned in three to seven days after a deadline, so knowing the parameters of being late is critical for your request to the instructor. For example, if school policy does not allow an instructor to accept late work after three days, then it is not a good idea to propose turning in your work a week after the deadline.
When you contact your instructor, offer the instructor a new deadline for your work and ask about late penalties. Those late penalties are usually in the syllabus or course materials, but instructors often have some leeway in enforcing them. Getting an instructor's agreement in writing will be helpful if anything goes wrong or if the instructor forgets the deal regarding the late schoolwork.
Be Sure to Tell Your Instructor Why Class Assignments Will Be Late
You should also explain the reason for your inability to complete the assignment. Always tell the truth, as karma has a way of catching up with people. There could be unusual circumstances or disruptions in your life, such as:
Changes in work
New military orders or work assignments
Family problems
Relocation
Divorce
Marriage
Birth or adoption of a child
Other life events
I would not recommend claiming that you do not understand the assignment as your excuse for being late. If you did not understand your class assignment, why are you waiting until hours before it is due to ask questions?
If you are in a situation where the deadline is very close, read the assignment a couple of times to ensure you understand it. If you have a question about your class assignment, you can ask your professor when you request an extension.
However, there's a good chance you may not get a response from them until after the assignment is due. In the future, read the assignment at the start of the week and ask a question about it then.
Granting Extensions Depend on the Instructor, But It's Worth Asking
As an instructor, I typically stick to what is stated in the syllabus or course materials when I'm choosing to impose penalties for late work. However, there are some cases where I am flexible. Getting an agreement in writing ensures you get what you expect, rather than having your instructor forget about the reason you're late with your class assignments.
The process of asking for an extension will be difficult, and there is no guarantee that your teacher will accept late work. Some classes and instructors are adamant about not accepting late work. I would still recommend asking before the deadline, as you might be successful.
By following the advice I have recommended, you can hopefully complete your schoolwork on time and avoid late submission penalties on homework assignments.
If you do need to ask your instructor for an extension, remember that they are not obligated to grant it to you. Be ready to accept the lost points and work harder on your remaining school assignments.
By making a few easy changes in your homework preparation and planning, you can hopefully avoid needing to rush through homework assignments or asking for an extension. Learning how to focus on homework assignments in advance may help you enjoy the learning process more and complete coursework on time.
---
About the Author
Dr. Robert Gordon, CPC, is a faculty member of the Reverse Logistics Management and Government Contracting and Acquisition programs at the University. He holds a bachelor's degree in history from the University of California, Los Angeles; a master's degree in business administration from the University of Phoenix; and a doctoral degree in management from the University of Phoenix. Dr. Gordon also holds graduate certificates in information technology project management, information technology security and logistics management from American Public University.
Ready To Get Started? Courses Start Monthly
Next Courses Start
Dec 4
Register by
Dec 1