Dr. Keith Ludwick
Full-Time Associate Professor, Security and Global Studies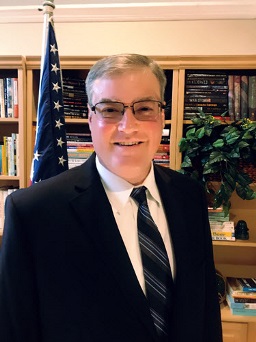 Education
M.S. in Cybersecurity Studies

APUS
Ph.D. in Biodefense

George Mason University
M.A. in Homeland Security and Defense

Naval Postgraduate School
Research Interests
Terrorism, Lone Wolf Terrorism, Technology & Intelligence Policy, Cyber
Positions Held
2023 - Present
The Ludwick Agency
President/CEO
2022 - Present
Trinus Consulting
Vice President
2019 - 2023
Wellmont Academy
Faculty
1995 - 2018
Federal Bureau of Investigation
Supervisory Special Agent
1990 - 1995
U.S. Air Force
Capt.
Intellectual Contributions
Introducing Individual Cyberterrorist Indicator Theory: Toward understanding Characteristics of Singular Cyberterrorists
Christina Roberts,Keith Ludwick
July (3rd Quarter/Summer) 2023
Global Security and Intelligence Studies Journal
Societal Security and COVID-19
Jennifer Osetek,Keith William Ludwick
February 2022
Springer
Preventing Terrorism: Structure and Processes
Keith Ludwick
2021
Emerald Publishing
Sorry, We're Closed: Applying Business Models to Failed Terrorist Organizations
Keith Ludwick
June 19, 2020
Studies in Conflict and Terrorism
Lone Wolf Terrorism in Legislation: A Legal Overview
Keith Ludwick
October (4th Quarter/Autumn) 2019
Global Security and Intelligence Studies
Law Enforcement in the Cyber Domain: Organizational Recommendations
Keith Ludwick
June 2019
Law Enforcement Executive Forum
The Alphabet Bomber: A Lone Wolf Terrorist Ahead of His time - A revew
Keith Ludwick
April (2nd Quarter/Spring) 16, 2019
CBRN Central
External Contracts, Fellowships, Grants and Sponsored Research
Homeland Security: An Evolution of Leadership
American Public University System
2023 - 2023
Funded - Completed
Presentations
Impacts of Emerging Technology on Human Intelligence
International Studies Association
April 6, 2024
Utilizing AI/ML to Reduce Forensic Workload of Ballistic Evidence
International Criminology Hybrid Conference
September 27, 2023
OSINT - Practical Applications
Society for Defense and Strategic Studies - Professional Development Program
September 23, 2023
Virtual learning for private schools during COVID
Pinellas County Meeting of Christian Private Schools
February 2020
Ed Tech
Council of Foreign Relations - Higher Education
April 2019
OSINT and Social Media in support of Law Enforcement Investigations
U.S. Central Commad Conference
October 17, 2017
Certifications and Licensure
January 30, 2022
CITI - Social & Behavioral Research - Basic/Refresher
Collaborative Institutional Training Initiative (CITI)
January 30, 2022
CITI - Social & Behavioral Research - Basic/Refresher
Collaborative Institutional Training Initiative (CITI)
March 15, 2019
CITI - Social and Behavioral Research Basic/Refresher
Collaborative Institutional Training Initiative (CITI Program)
Awards & Honors
May 18, 2023
2022/2023 Wellmont Academy Teacher of the year
Wellmont Academy
During the 2022/2023 school year, I was awarded the Teacher of the Year for all grades K-12 at the Wellmont Academy. This award recognizes teaching excellence, contributions to the school, mentorship toward students, and overall impact.
June 2022
Graduate Excellence in Teaching
AMU
This faculty award recognizes outstanding experienced and new faculty at the graduate level who demonstrates teaching excellence, as well as leadership and scholarship in their discipline.
June 16, 2021
2020 University Strategic Initiative – Catalyst – Learning Management System Migration
APUS
During 2020, the earner of this badge made significant contributions to the migration of courses to a new online classroom to improve user experience, promote student-to-student and faculty-to-student interaction, enable a robust mobile classroom, and further differentiate APUS as a leader in online learning.
December 10, 2020
SSGS Faculty Mentorship Award
AMU - School of Security and Global Studies
Excellence in mentoring students in achieving their academic objectives through moral, social, and intellectual support.
May 2011
National Intelligence Medal
National Security Agency
October 2008
Outstanding Academic Leadership Award
Naval Postgraduate School
October 2008
Top 10% of all Naval Postgraduate School Thesis
October 2004
FBI Director's Award for Technical Advancement
FBI
May 1998
Meritorious Unit Citation
Central Intelligence Agency